Open Educational Resources for STEM subjects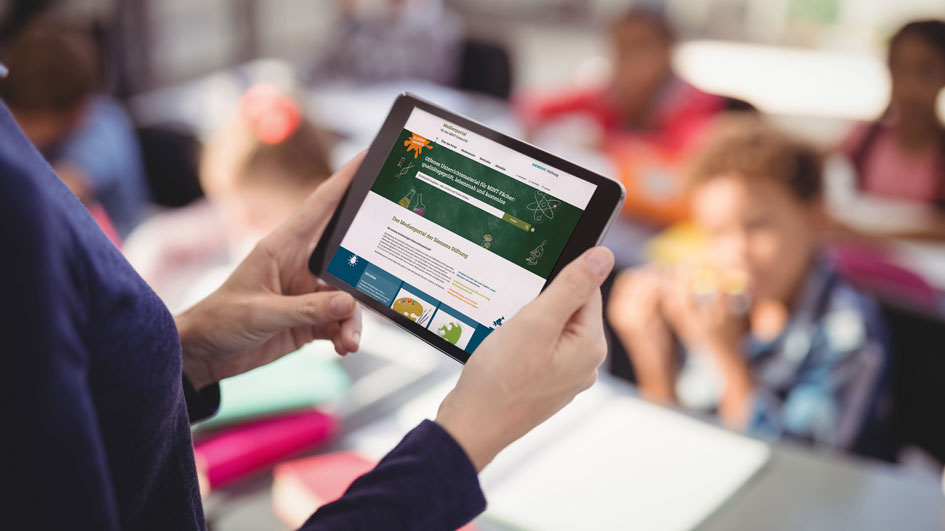 © Siemens Stiftung
Digital materials are modern teaching and learning methods with the potential to breathe new life into lessons. They are the foundation for developing new pedagogical approaches and the heart of our Media Portal: a platform that provides teaching materials for dynamic, realistic STEM lessons. The materials are publicly available, free of charge, and quality-controlled.
The Media Portal provides teachers with around 3,400 Open Educational Resources (OER) for STEM lessons. Whether it's math, biology, computer science, physics, or chemistry – the Media Portal offers a large selection of free, digital teaching materials. The platform also includes instructions for new methods, practical examples, and a dedicated student's area. All materials and training opportunities from our international education program Experimento are also available in the Media Portal.
Current subjects and language variety
The science and technology teaching materials cover environment, energy, and health and have been developed for different age groups. We think it is important that these materials address current and future global challenges, which is why we work with experienced educators to expand the materials and keep them up to date. To make the media available to teachers in other countries as well, we offer our materials on the Media Portal in German and English. The Spanish media are located on our new educational platform for Latin America – CREA (Centro de Recursos Educativos Abiertos). All materials have been tailored to meet curriculum standards in certain countries.
The path toward open education for all
In its Agenda 2030, the United Nations calls for inclusive and equitable quality education for everyone! We hope our work on open STEM education materials will contribute to this goal by enabling free access to public, adaptable content and by supporting educators and teachers with contemporary, realistic teaching methods that support their educational work. Our efforts make science and technology education easier to understand, more accessible, and more relatable.
All materials are available under a public license as Open Educational Resources (OER). This means every user has full access to legal materials and the permission to modify or merge them with other materials, or to share them with others. No registration is necessary for the platform. The broad range of permissible uses is a real benefit for classrooms with a high degree of diversity. Teachers can adjust the materials for special education needs, making adjustments individually or collaboratively. OER contain great potential for individual promotion and cooperative work, which we support by providing these materials.
The Media Portal is networked with many platforms, media centers, and educational forums. Our materials are easy to find in other portals thanks to intelligent keyword indexing.
STEM education for staying smart at home
The Media Portal is also part of "Wir bleiben schlau! Die Allianz für MINT-Bildung zu Hause." The alliance for STEM education at home is an initiative of the German Ministry of Education and Research and the STEM working group of state-level education and cultural affairs ministers.
More than 3,400 open educational resources in German and English
All materials under Creative Commons licenses
Cooperation with 19 education partners
Collaboration with a network of distinguished experts and educators
Implementation of an OER portal specifically for Latin America: CREA
The Media Portal Newsletter keeps you up to speed on new materials, practical tips, and new developments in OER.