Open Educational Resources
Harnessing the educational opportunities of digitalization
Children and young people should have access to high-quality education no matter where they are on earth. This belief is anchored in the United Nations Agenda 2030 and also forms an important pillar of our work at Siemens Stiftung. We believe Open Educational Resources (OER) are a large part of the solution, which is why we have joined a global movement in support of a culture of sharing that benefits everyone – not only when schools are closed and children are learning at home, but on a permanent basis.
In UNESCO's 2012 Paris Declaration, Open Educational Resources are defined as teaching materials that can be accessed, modified, and shared anywhere in the world, free of charge.
Since then, institutions and private citizens have been developing and using OER. In addition to UNESCO, the OER World Map indicates that renowned education institutions such as the Massachusetts Institute of Technology (MIT) or the Khan Academy support the OER movement.
A video on a subject that is very close to our hearts - open education! Blink Tower explains OER in three minutes.
1/1
Dr. Nina Smidt, Managing Director of Siemens Stiftung
One of the most important goals of the United Nations Agenda 2030 is "inclusive, equitable quality education for all." Our dedication to free educational media supports the pursuit of this goal in three ways:
OER create educational opportunities OER are not just about who will create textbooks and other teaching materials in the future. In fact, equality in education and in opportunities for the future are much more important issues. The proper materials that support quality education for children are not yet available everywhere. Like UNESCO, we therefore consider OER to be an effective way to "democratize education." Their digital availability means they can be accessed anywhere in the world – including regions where teaching and learning materials are not yet affordable for everyone.
OER allow for individual promotion From our work with teachers and students, we know there is no such thing as a "one size fits all" approach in the classroom. Classrooms are becoming more diverse, and teaching materials need to be modified to suit different needs. However, modifying existing materials is a challenge due to prevailing copyright systems. Fortunately, OER can be modified legally, which includes anything from adapting materials to a country's cultural circumstances or shaping them to address the unique learning and educational needs of a particular class. The flexibility aligns OER with important criteria for differentiated, inclusive lessons.
Active OER collaborationsOpen educational media help form new ideas for innovative teaching and learning methods. But they also encourage collaboration: this is not limited to interactions between teachers and students, but also includes peer-to-peer collaboration among teachers. By linking the creative potential of many people, new materials on current subjects emerge that have not yet reached the textbooks, equipping individual learners with the education they need in a rapidly-changing, dynamic world.
Professor Michael Kerres, Chair of Educational Media and Knowledge Management at the University of Duisburg-Essen (Germany), addresses the role of foundations in expanding OER.
Open Educational Resources for STEM lessons
Our Media Portal contains more than 4,000 free OER for science and technology lessons: interactive whiteboard content, graphics, audio files, worksheets, experimentation instructions, and videos. They are available in German, English, and Spanish and have been created and evaluated by subject experts. In the interest of creating transparent copyright guidelines for the materials' authors and the teachers, we use the standard CC license from the nonprofit "Creative Commons." This makes it clear that as long as the same copyright is retained, anyone may use and share the content.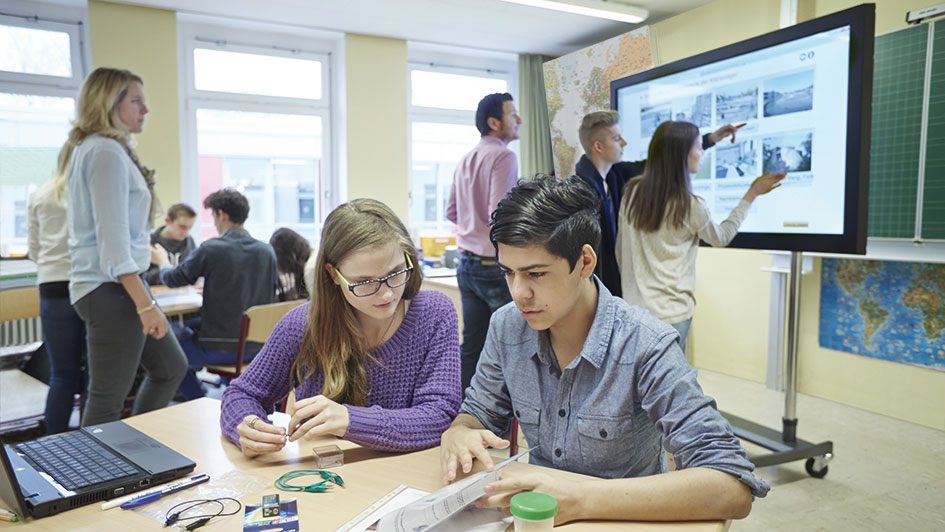 © Siemens Stiftung, Photographer: Enno Kapitza
Practical lesson concepts
There are many advantages to open educational media, but their use is far from universal in classrooms. According to a recent survey, 49 percent of participants in 102 countries still experienced problems using OER (OER Global Report 2017). The reasons range from copyright uncertainty and content quality to practical implementation. We want to address these obstacles and are working with universities and educational institutions such as the TUM School of Education or the iMINT-Akademie (STEM Academy) on lesson concepts that utilize OER.
Strong networks for OER and digital learning
We also know that many countries do not have access to OER portals or lack the technical devices needed to work with the materials. To help address this issue, we provide our open educational media in analog form to universities and schools with whom we work in these regions. As part of the UNESCO Global Education Coalition, we are working to expand access to OER so it is universally available to all. We also advocate for more OER and digital learning in the classroom on national committees, such as Germany's Forum Education Digitalisation. In Latin America, we cooperate with education partners and universities from all over the continent in the Red STEM Latinoamérica network: The new Centro Recursos Educativos Abiertos contains around 700 teaching and learning materials specifically designed for use in Latin American schools.
We do more than advocacy as a nonprofit foundation. More importantly, we actively pursue the expansion of OER, which sometimes leads to questions and criticism. Our OER expert Corinna Hartung addresses some of these issues in an interview, sharing how open educational media copyrights work, the biggest challenges in implementing OER in schools, and how we perceive our role as a foundation.
Commonwealth of Learning: Open Educational Resources. Global Report (2017)
OECD: Open Educational Resources. A Catalyst for Innovation (2015)
UNESCO: OER Paris Declaration (2012)
UNESCO: German OER Practices and Policy – from Bottom-up to Top-down Initiatives (2018)
UNESCO: Recommendation on OER (2019)
UNESCO: Call for Joint Action – Supporting Learning and Knowledge Sharing through Open Educational Resources (2020)