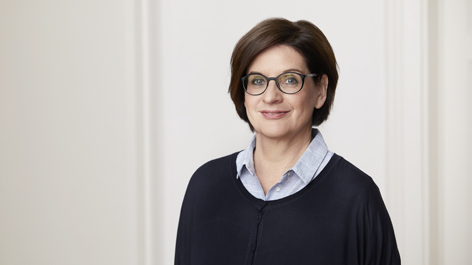 Corinna Hartung, Project Manager Media Portal
Open Educational Resources: A new culture of sharing
Open Educational Resources (OER) are teaching and learning materials under an open license. They may be downloaded free of charge by anyone, modified, and shared. As part of a global OER movement, quality, up-to-date materials are reaching more people than ever. How does copyright work with Open Educational Resources? What are the biggest challenges to implementing OER on an everyday basis in schools? What is Siemens Stiftung's role in the OER movement? We sought answers from our expert, Corinna Hartung.

Siemens Stiftung is making thousands of educational media openly available, effectively entering the education market. Is the foundation allowed to do that?
Absolutely! We take UNESCO's "education for all" initiative very seriously and really believe in this important goal. Part of that is providing access to educational media that is as open as possible. OER belong to a culture of sharing, something we want to encourage as a non-profit foundation. We also think that more high-quality materials enrich the education market, rather than weaken it.
What exactly are you doing?
We provide around 4,000 openly-available educational media for free on our Media Portal. They deal with the subjects of science and technology. We also introduce ideas for new lesson formats. A diverse range of ideas encourages healthy competition when it comes to lesson content. Children and teachers benefit the most because they get to choose what is right for them.
There's a lot of talk about copyright. Do the authors really need to fight for their rights?
I hear this concern repeated far too often. And to be honest, it has no merit. Openly-licensed educational materials are subject to copyright. Quite simply, that means the person who created the work retains all the rights to it. The author decides which rights to pass on, and in what form. For example, the author could sell these rights to an institution. The institution can offer the work as OER as long as the author has given the institution the appropriate usage rights. OER and publishing deals are not mutually exclusive.
How do you handle the licensing of these media? And what is a user allowed to do?
We hire expert authors to create these materials and purchase the rights from them. Anyone can download these materials from our Media Portal free of charge. They can be changed, combined, and modified – under two conditions: We are named as the copyright holder of the original, and the media is only distributed under these same conditions. We faced a much difference challenge when we started. By 2015, we had already been creating lesson materials and had accumulated a large pool of "protected" content. We had to see if it was all compatible to use as OER, and we had to consider the time and financial commitments necessary to turn the materials into openly-available education resources. In some cases, we had to renegotiate with the authors.
How do you ensure that the content maintains a certain level of quality? Is that even possible?
We certainly could not do it alone. We work with a network of authors from schools and universities who provide educational and methodological expertise. The TUM School of Education or the IMINT-Akademie are two examples. We check for neutrality in the materials and make sure that information on controversial subjects is not one-sided or incomplete. For me, the important part of the whole discussion about the quality of OER is that more focus should be placed on teachers. There is plenty of potential for digital media in the classroom, but that doesn't mean lessons automatically improve. That is dependent on teachers who not only implement the materials with enthusiasm and the necessary subject expertise, but who also adapt them to the needs of their classes. We have teaching methods and lesson concepts that show how this can work.
It is not just about creating more and more free education materials. They must also be embraced by those who need them. There are two digital factors that play an important role here: First, we really focus on properly indexing the media and linking up with other educational portals. What good is the best lesson content when it cannot be found quickly and precisely? Second, as a foundation that works in developing countries, we know that providing OER alone is not enough. As an example, we work with teachers in Sub-Saharan Africa who can access OER on their mobile phones, but don't have the financial or technical possibilities to put OER to use in their classrooms, such as cheap mobile data, reliable internet, computers, printers, or projectors.
Doesn't that make UNESCO's vision of "education for all" obsolete?
Not at all! The teachers we work with are incredibly creative. They receive the media in analog and digital forms, come up with their own ideas, and then work them into lessons in their own way. This is exactly the kind of creative power that needs to be supported and encouraged. And the technical capabilities of developing and emerging countries will also improve in the coming years. It is therefore even more important that high-quality educational materials are available free of charge. UNESCO has even taken concrete steps toward its goal of achieving "free access to education for all:" at the end of 2019, all member states adopted the UNESCO "Recommendation on OER" and provided assurances that it would be implemented in their countries.
Which opportunities and challenges do you see in open educational materials? Write me your experiences!
Project Manager Media Portal