Social business model with new technologies
At the WeTu Hub in Mbita on Lake Victoria, customers can purchase clean drinking water and borrow solar lanterns.
1/7
© WeTu, Photographer: Chris Howarth
At several locations, customers can obtain filtered drinking water around the clock via an ATM system.
2/7
© WeTu, Photographer: Chris Howarth
A so-called "talking wall" in front of the hub illustrates the hygienic handling and transport of water.
3/7
© WeTu, Photographer: Chris Howarth
The WePower division lends lithium-ion lanterns to fishermen on Lake Victoria.
4/7
© WeTu, Photographer: Chris Howarth
More than 1,200 of the specially developed solar lanterns are already in use at night.
5/7
© WeTu, Photographer: Chris Howarth
The e-Cargo Bike in use in Kenya. The off-road electric cargo bike was developed by the start-up anywhere.berlin.
6/7
© anywhere.berlin , Photographer: Evans Dims Ouma
Production of an off-road electric cargo bike (e-Cargo Bike) at the Wetu location Mbita.
7/7
© WeTu, Photographer: Evans Dims Ouma
WeTu is a social enterprise founded by Siemens Stiftung in Kenya that works on innovative solutions for supplying energy and drinking water in communities on Lake Victoria. In addition, the company is deploying the first-ever electric vehicles specifically developed for rural Africa. When combined with social and ecological business models, these solutions are improving living conditions in the region, creating jobs, and establishing new economic opportunities.
"WeTu" – Swahili for "ours" – is powered by the social enterprise WeHub! Victoria Ltd. and operates along Lake Victoria. It is fully-owned by Siemens Stiftung. WeTu's services include solar-powered fishing lantern rentals, the sale of clean drinking water, and e-mobility solutions. The social enterprise aims to generate enough income to sustain business operations and maintain technical facilities. Any additional profit remains within the company and is put toward expanding the business and its positive social impact.
Sustainable solutions for drinking water, energy, and mobility
Over the years, Siemens Stiftung has gained lots of experience with social entrepreneurial solutions in development cooperation. With WeTu, Siemens Stiftung took the next step, creating its own social enterprise to expand the impact of its solutions and to anchor them in a local setting. WeTu is registered as a limited company in Kenya and is defined as a social enterprise according to German fiscal regulations – similar to the legal form of a German gGmbH. Funding for purchasing property, buildings, and technical equipment was provided by Siemens Stiftung in the form of a low-interest shareholder loan. WeTu took over operation of seven We!Hub locations from Siemens Stiftung's previous cooperation project in the region.
An opportunity for social enterprise in the region
In Kenya's Lake Victoria region, only about 35 percent of the population has access to clean drinking water. Only 20 percent is connected to a central power grid. Transporting people and goods is often a challenge in very rural areas. Another major hurdle facing the country is its high rate of youth unemployment, which currently stands at more than 20 percent. However, startups and social enterprises are effective at creating permanent jobs under these circumstances while also providing basic services for everyday life.
Globally networked from Kisumu's business incubator
WeTu's administrative offices are located in Kisumu's new LakeHub business incubator, a place that local digital startups call home. Working with these organizations ensures that digital applications for new business models in the circular and rental economies take root and grow. The new focus on electromobility services will be accompanied by a German-Kenyan research partnership currently being established by Siemens Stiftung.
In an interview with the Association of German Foundations, Siemens Stiftung Managing Director Rolf Huber discusses the challenges in founding WeTu and the company's plans for the future.
WeTu operates along the coast of Kenya's Lake Victoria at locations in Mbita, Sindo, Nyandiwa, Sori, Ragwe Honge, and Uhanya. The head offices are in Kisumu at the "LakeHub" business incubator.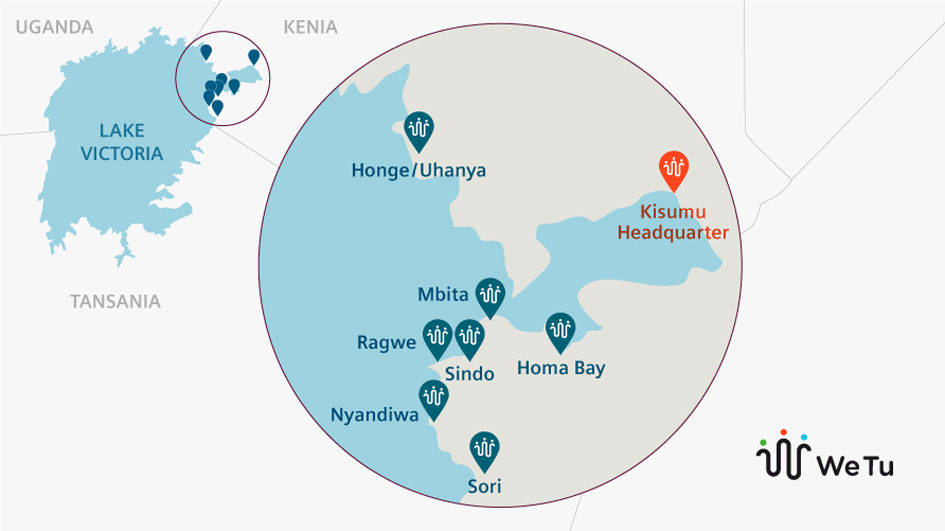 © WeTu
WeTu is currently working on creating new hubs and expanding existing sites. The first half of 2020 alone saw the renovation of more than thirty "satellite hubs," which are gradually being set up in new communities. WeTu works closely with local authorities on this process, paying close attention to the environmental impact. The company directly employs 25 people, but more jobs have been created indirectly: employees of a security company hired through a service provider are working nearly full-time at WeTu. In addition, WeTu is expanding its franchise business model for solar fishing lanterns, adding up to 30 more jobs. Furthermore, vocational training for "e-mobility mechanics" is on the way for workers in the informal sector, such as motorcycle mechanics, to learn about the specifics of e-transport and establish value chains in Western Kenya.
Developing the three verticals water, energy, and electromobility
The last year has seen the creation and expansion of services in WeTu's three business verticals: WeWater, WePower, and WeMobility. In the first year, WeWater sold around one million liters of drinking water and registered five hundred customers with an average of four people per household. Water vendors delivering water directly to customers supplied an additional 500 people with drinking water. The cashless payment system is a success, and in 2020, 12 additional delivery points will significantly increase the number of customers and allow water to be delivered closer to their huts and apartments.
The number of environmentally-friendly fishing lanterns in the WePower vertical has doubled, and the construction of 30 new satellite hubs will bring even more fishing villages into the fold. Plans are in the mix to give the lantern batteries a second life in a recycling process and to establish electronic waste collection points at the kiosks.
The technological approaches and business models of the innovative mobility solutions developed within the WeMobility  vertical are currently in the 'proof of concept' phase. Emerging entrepreneurs can rent cargo bikes for transporting water and other goods. Right now, 20 e-cargo bikes are available and can be used for tasks such as delivering water and other goods. Thanks to affordable access to e-mobility vehicles, countless additional services that create jobs and income are possible. To encourage new skills and employment opportunities, WeTu is working to expand local production and increase the number of services available at the workshops.
You might also be interested in
Locally-adapted innovations with societal impact
Entrepreneurial approaches for self-sustaining structures