Innovation hub with sustainable impact
At the WeTu Hub in Mbita on Lake Victoria, customers can purchase clean drinking water and borrow solar lanterns.
1/7
© WeTu, Photographer Anthony Onyango
At several locations, customers can obtain filtered drinking water around the clock via an ATM system.
2/7
© WeTu, Photographer: Chris Howarth
A so-called "talking wall" in front of the hub illustrates the hygienic handling and transport of water.
3/7
© WeTu, Photographer: Chris Howarth
The WePower division lends lithium-ion lanterns to fishermen on Lake Victoria.
4/7
© WeTu, Photographer: Chris Howarth
More than 1,200 of the specially developed solar lanterns are already in use at night.
5/7
© WeTu, Photographer: Chris Howarth
The e-Cargo Bike in use in Kenya. The off-road electric cargo bike was developed by the start-up anywhere.berlin.
6/7
© anywhere.berlin , Photographer: Evans Dims Ouma
Production of an off-road electric cargo bike (e-Cargo Bike) at the Wetu location Mbita.
7/7
© WeTu, Photographer: Evans Dims Ouma
WeTu is a social enterprise founded by Siemens Stiftung in Kenya that works on innovative solutions for supplying energy and drinking water in communities on Lake Victoria. In addition, the company is deploying the first-ever electric vehicles specifically developed for rural Africa. When combined with social and ecological business models, these solutions are improving living conditions in the region, creating jobs, and establishing new economic opportunities.
Over the years, Siemens Stiftung has gained lots of experience with social entrepreneurial solutions in development cooperation. With WeTu, Siemens Stiftung took the next step, creating its own social enterprise to expand the impact of its solutions and to anchor them in a local setting. WeTu is registered as a limited company in Kenya and is defined as a social enterprise according to German fiscal regulations – similar to the legal form of a German gGmbH. Funding for purchasing property, buildings, and technical equipment was provided by Siemens Stiftung in the form of a low-interest shareholder loan. WeTu took over operation of seven We!Hub locations from Siemens Stiftung's previous cooperation project in the region.
"WeTu" is Swahili for "ours" and is the brand name of the social enterprise WeHub! Lake Victoria Ltd. The core business of the 100% owned subsidiary of the Siemens Stiftung is based on the rental of solar-powered fishing lanterns, the distribution of clean drinking water and the providing of e-mobility solutions. The objective is to be able to sustainably finance the operating business of the social enterprise as well as the maintenance and repair of the technical equipment from the income. Possible profits remain in the company and serve the further expansion and the associated strengthening of the positive social impact.
A 24/7 ATM system ensures access to safe drinking water at the hubs. A vending machine is available around the clock, regardless of opening hours. Water is paid for via tokens, which can be easily topped up by cash deposit or mobile money. This ATM system ensures that no water is lost or wasted and automatically notifies customers by text message if problems occur.
To filter the water, WeTu uses Solar Spring Membrane Solutions, a compact 4-stage water purification system that produces up to 12,000 liters of drinking water per day. The system is suitable for treating contaminated surface water from wells, rivers, lakes and rainwater, delivering water quality that is up to 99.99% free of bacteria and viruses. Rainwater and water from Lake Victoria is used for the WeTu Hubs.
Kenya is transforming its energy sector and rapidly shifting to renewable energy with a target of attaining 100% sustainable energy by 2030. It requires a workforce to fuel this green transition. Education is one of the most critical factors that determine income and social development. In partnership with social enterprise, WE!Hub Victoria Limited (WeTu), Siemens Stiftung launches a new educational project WeLearn.
The four-week course focuses on vocational orientation for school graduates (50% girls) in technical skills. Rooted in STEM subjects, the project aims to bridge the skill gap between theory and technical application required for the green economy.
The WeTu Hubs not only provide clean drinking water, but are also solar-powered charging stations that supply electricity for sustainable energy solutions. The services are built on the sharing economy approach. WeTu rents lanterns and batteries for e-vehicles, takes care of charging and maintenance of the products, driving an environmentally friendly reuse and recycling process.
Many fishermen on Lake Victoria use lanterns with lead-acid batteries, which sink to the bottom of the lake in stormy conditions, causing a high environmental impact. WeTu, on the other hand, offers lanterns with lithium-ion batteries. These lanterns are robust, durable and floatable.
The WeMobility business area is testing electric vehicles that are particularly suitable for everyday use in rural areas at locations along Lake Victoria. The aim is to demonstrate that the products offer an environmentally friendly and long-term alternative to existing transport options. Principles of the sharing economy are also used here. The e-mobility solutions offer regional retailers, fishermen, farmers and small businesses the opportunity to increase their income by reaching a larger customer base.
The assembly and maintenance of the e-vehicles is done in local workshops, creating a regional value chain. Training and instructions on how to build and maintain the e-mobility solutions, as well as on how to procure suitable materials, take place at the WeHubs. This prepares the mechanics for the new requirements that the e-mobility solutions demand.
In Kenya's Lake Victoria region, only about 35 percent of the population has access to clean drinking water. Only 20 percent is connected to a central power grid. Transporting people and goods is often a challenge in very rural areas. Another major hurdle facing the country is its high rate of youth unemployment, which currently stands at more than 20 percent. However, startups and social enterprises are effective at creating permanent jobs under these circumstances while also providing basic services for everyday life.
Globally networked from Kisumu's business incubator
WeTu's administrative offices are located in Kisumu's new LakeHub business incubator, a place that local digital startups call home. Working with these organizations ensures that digital applications for new business models in the circular and rental economies take root and grow. The new focus on electromobility services will be accompanied by a German-Kenyan research partnership currently being established by Siemens Stiftung.
Along the coast of Lake Victoria in Kenya, WeTu operates in Mbita, Sindo, Nyandiwa, Sori, Ragwe, Honge/Uhanya and Homabay. The administration is located in Kisumu, in the business incubator "LakeHub".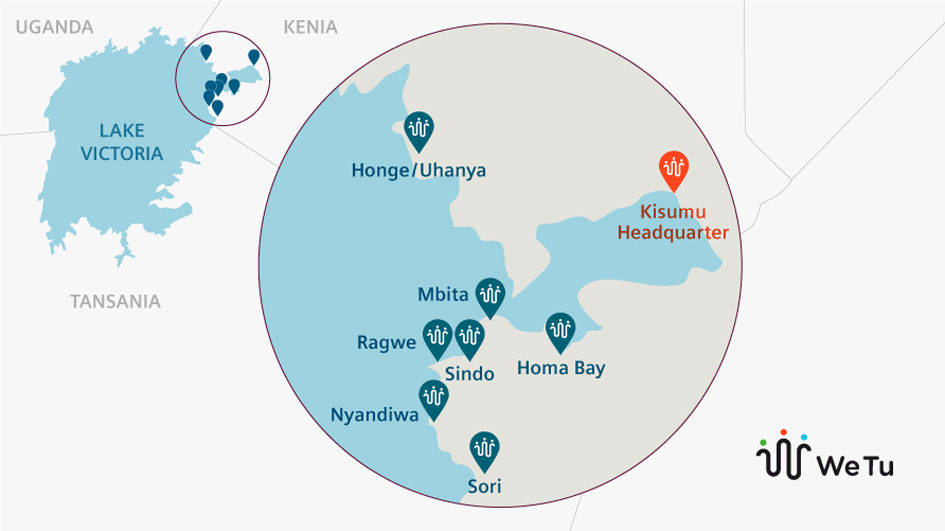 © WeTu
WeTu is currently working on creating new hubs and expanding existing sites. The first half of 2020 alone saw the renovation of more than thirty "satellite hubs," which are gradually being set up in new communities. WeTu works closely with local authorities on this process, paying close attention to the environmental impact. The company directly employs 25 people, but more jobs have been created indirectly: employees of a security company hired through a service provider are working nearly full-time at WeTu. In addition, WeTu is expanding its franchise business model for solar fishing lanterns, adding up to 30 more jobs. Furthermore, vocational training for "e-mobility mechanics" is on the way for workers in the informal sector, such as motorcycle mechanics, to learn about the specifics of e-transport and establish value chains in Western Kenya.
Developing the three verticals water, energy, and electromobility
The three business units WeWater, WePower and WeMobility were also further developed and expanded: To date, the WeWater business unit has already sold around ten million liters of drinking water. Around 3,500 registered customers with an average of 5 people per household are now supplied by the social enterprise. The cashless payment system has proven its worth and 16 automated dispensing points have already been installed in ten communities. By the end of 2023, a further 15 delivery points are to be set up in order to reach significantly more customers and bring the water closer to their huts and homes.
10 million liters of water sold

3,500 registered customers
A total of 31 water ATMs by the end of 2023
40 electric motorcycles for rent

The number of environmentally friendly fishing lanterns for the WePower business area has already doubled. By establishing further locations, the business model will be steadily expanded and more fishermen will be reached. The aim is also to transfer the batteries of the lanterns into a Second Life recycling loop and to set up collection points for electrical waste at the kiosks. Furthermore, further education and training in the area of "e-mobility and e-waste" as well as drinking water and hygiene have been carried out in order to prepare people from the informal sector, such as motorcycle mechanics and electricians, for the changed requirements of e-transport and to build up and establish value chains in Western Kenya.
Innovative mobility solutions developed in the WeMobility business unit are in the "proof of concept" phase with regard to various technological approaches and business models. Self-employed small entrepreneurs can rent electric motorcycles. At the moment, 40 electric motorcycles are available, which are used, for example, for the delivery of goods or also for passenger transport. The low-cost access to e-mobility vehicles thus enables numerous new services, creating more jobs and generating additional income. To support the development of new skills and jobs, WeTu is working to expand local production and increase workshop offerings.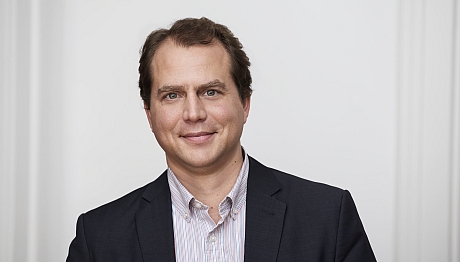 «Every employee is fully involved in moving the company forward.»
An interview with Tilmann Straub, Managing Director of WeTu