E-mobility

Sustainable mobility solutions in sub-Saharan Africa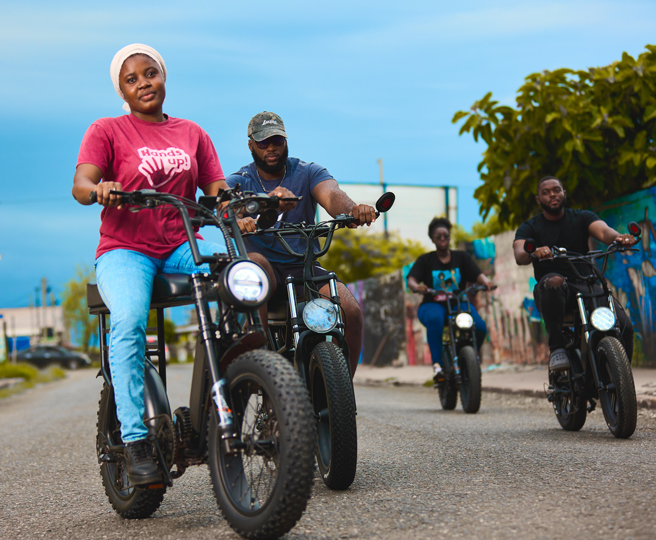 In sub-Saharan Africa, we collaborate with social enterprises, local authorities and international organizations to foster sustainable solutions and business models for e-mobility. We believe that, when based on renewable energy and circular economy-compatible technologies, electromobility can play a decisive role in achieving global climate goals and fostering both social and economic development. 
Africa is the continent experiencing the fastest population growth at present. Its population is expected to increase from the current level of 1.2 billion to over 1.8 billion people by 2035. Consequently, adequate mobility solutions are essential to ensure that everyone has access to key services, workplaces, education and relevant markets. The transport sector is currently responsible for a significant proportion – 28.5% – of the continent's greenhouse gas emissions. Given the forecasted population growth, rapid urbanization and economic upturn, the transport sector's share of greenhouse gas emissions is likely to rise further.
E-mobility as a driver of sustainable business and active climate protection
Electrifying the transport sector is a promising means of cutting CO2 emissions and combating air pollution, while also providing extensive mobility services. However, for this transition to a climate-friendly future to be successful, urgent investments are required in charging infrastructure, electric vehicles and key e-mobility components, such as batteries. Technological developments, technical modifications, extensive testing and detailed pilot projects all have a decisive role to play in ensuring that electromobility solutions are deployed successfully and sustainably.  
Mobility as a factor of sustainability
»The transport sector is the fastest-growing greenhouse gas (GHG) emitting sector, expected to reach a share of more than 30% of total GHG emissions in the future. The global vehicle fleet is set to double by 2050, with more than 90 per cent of future vehicle growth projected to take place in low and middle-income countries.»
UNEP (2021): Supporting the Global Shift to E-Mobility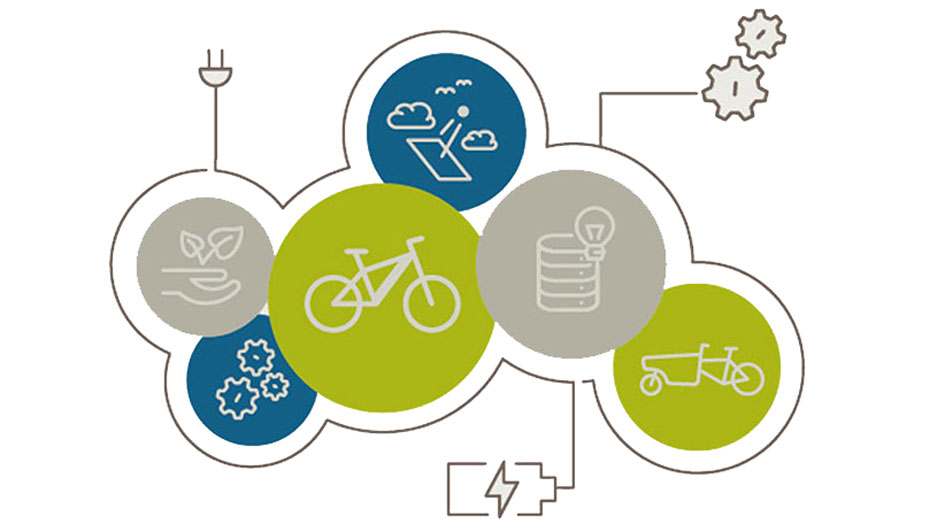 Current call for research & development
We seek social entrepreneurial solutions for sustainable transport in Kenya.
Through our programs, we support e-mobility solutions that have been especially developed for the African context and address the specific challenges of sub-Saharan Africa. We are convinced that promoting e-mobility solutions that are "Made in Africa for Africa" will not only contribute towards ecological sustainability, but will also drive economic growth, create jobs and improve people's quality of life.
Our efforts target social enterprises in the e-mobility sector with a focus on productive use. This means enterprises whose vehicles, components and services are primarily used by people who earn a living through mobility or who rely on mobility solutions for their work.  As part of our activities, we are also looking for solutions to currently high acquisition costs, a lack of charging stations and a lack of financing options.
Promoting research and development (R&D) focusing on e-mobility
As part of our research and development program, we are working with social enterprises in Ghana, Uganda and Kenya to further develop products or business models that have already been tested in the market, thereby increasing their social and environmental impact. One focus is on improving the marketability of e-mobility products and business models. We place particular emphasis on further developing the local production of e-mobility components in order to help increase value creation in the country.
Strengthening the e-mobility eco-system: knowledge building and networking
In addition to individual cooperations with social enterprises, we create an environment that facilitates the transfer of knowledge and data between companies, state institutions and other key actors. Studies that cast light on the impact and decisive factors of e-mobility in sub-Saharan Africa aim to support the development of sustainable mobility solutions and highlight scaling options.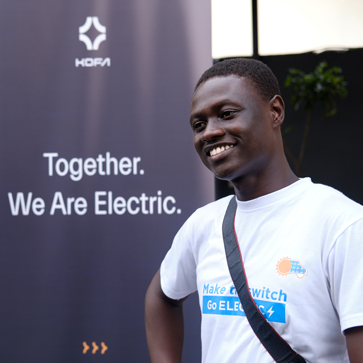 Training on Human-Centered Design

Siemens Stiftung offers professionals and entrepreneurs in the field of electric mobility in Kenya the opportunity to expand their knowledge of Human Centered Design and to take part in a 3-day immersive training workshop.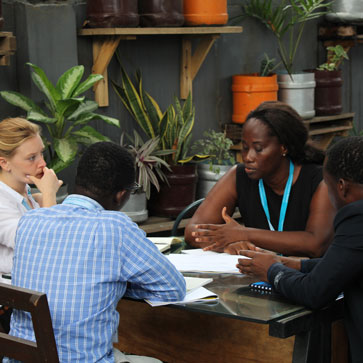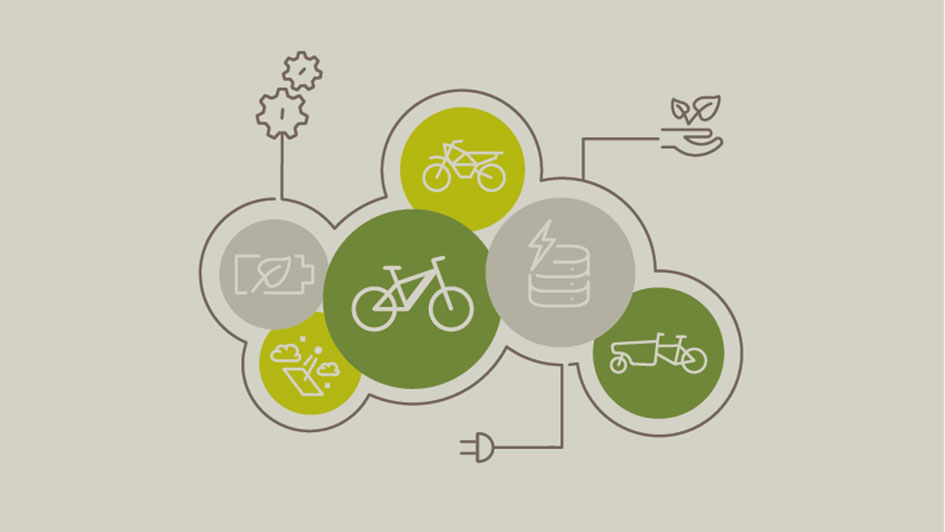 Call for research & development
We seek social entrepreneurial solutions for sustainable transport in Ghana and Uganda.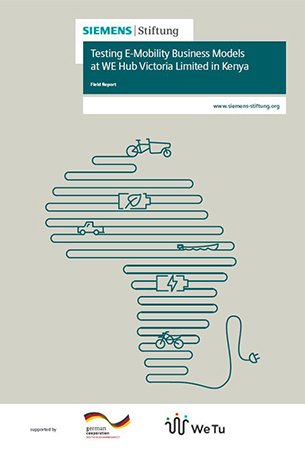 Testing E-Mobility Business Models at WE Hub Victoria Limited in Kenya (2022)
In our report "Testing E-Mobility Business Models at WE Hub Victoria Limited in Kenya" we share experiences on business modeling of leasing models for electric motorcycles with focus on customer acceptance and product usage.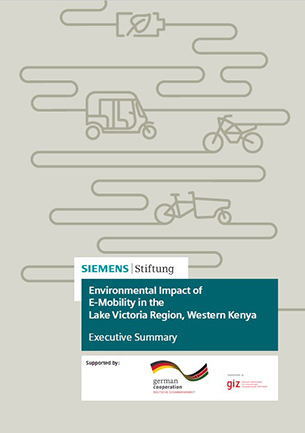 Environmental Impact of E-Mobility in the Lake Victoria Region (2020)
The study, "Environmental Impact of E-Mobility in the Lake Victoria Region," shows, among other environmental benefits, the potential for greenhouse gas reductions resulting from the adoption of e-mobility. Three basic recommendations can be derived.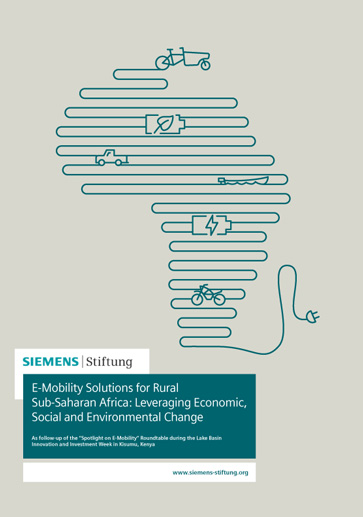 E-Mobility Solutions for Rural Sub-Saharan Africa: Leveraging Economic, Social and Environmental Change (2020)
Read our publication to find out why rural areas in sub-Saharan Africa have the potential to become the drivers of e-mobility in Africa. It also provides insight into currently available technologies and business models and provides reliable data for the region.
"Spotlight on…" series: webinars with e-mobility experts
Our "Spotlight on…" webinar series addresses the most important aspects of e-mobility in Africa. Each episode features key players in the e-mobility sector. 
You can find the recordings of the webinars on our YouTube channel.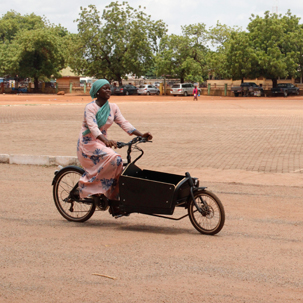 Cargo Bikes Made in Ghana:
fresh momentum for the domestic mobility sector
In the Cargo Bikes Made in Ghana project, Siemens Stiftung is working in partnership with the Impact Hub Accra to establish electric cargo bicycles on the Ghanaian market and promote sustainable domestic manufacturing. The project is also supported by the German federal government's International Climate Initiative (IKI).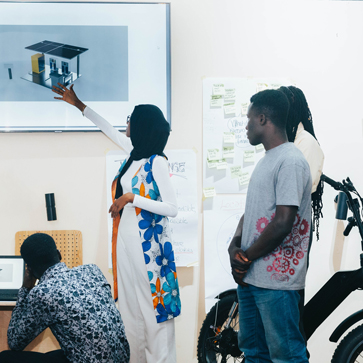 Pilot & Prepare to Scale E-mobility in Kenya:
road-testing electromobility
In cooperation with the German Climate Technology Initiative (DKTI) operated by GIZ as well as Kenyan social enterprises, we are working to improve local framework conditions for e-mobility in both urban and rural regions. This includes supporting and analyzing at least five pilot applications and/or business models for electromobility.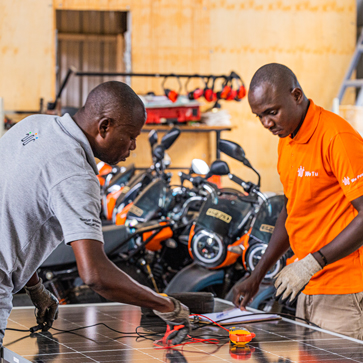 WeMobility: social enterprise WeTu as an innovation hub beside Lake Victoria
In rural and peri-urban parts of western Kenya, Siemens Stiftung cooperates with social enterprise WeTu in the field of e-mobility, enabling the company to pilot technologies and test new business models with various user groups. This work focused on electric cargo bikes, motorbikes and boat motors, including the requisite servicing and charging infrastructure.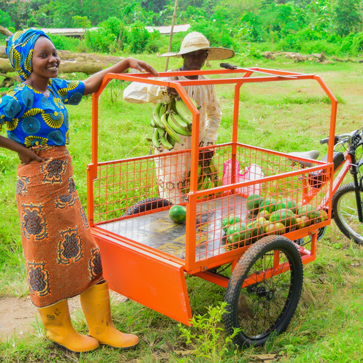 E-Mobility Innovation Call
In 2021, "Electric Mobility – Made in Africa for Africa", Siemens Stiftung's first competition in the field of e-mobility, called for applications from visionary African entrepreneurs, start-ups and social enterprises.  Five social enterprises were selected by a prestigious jury, with each receiving prizes of between €10,000 and €50,000 to develop their products and services and establish them on the market.
Working as part of an extensive network, we champion the sustainable transformation of the African transport sector, which contributes to the attainment of the United Nations Sustainable Development Goals (SDGs) and the climate targets set out in the Paris Agreement. 
Our partners include organizations such as the Association for Electric Mobility and Development in Africa (AEMDA), the Urban Electric Mobility Initiative (UEMI), Deutsche Gesellschaft für Internationale Zusammenarbeit (GIZ), the International Climate Initiative (IKI), Zukunft-Umwelt-Gesellschaft gGmbH (ZUG) and the Net Zero Accra platform operated by Impact Hub Accra, as well as local, regional and state authorities in Kenya, Ghana and Uganda.  
Would you like to work with us to promote e-mobility in sub-Saharan Africa? We look forward to hearing your thoughts!   
You want to delve deeper into the topic?
Job Opportunity: Expert in Human Centered Design

Siemens Stiftung is seeking experts with knowledge in Human Centered Design for training sessions in Uganda.