An entrepreneurial approach to drinking water
SWE water kiosks in rural Kenya utilize a long-term business model to sell clean water at a fair price.
1/4
© Siemens Stiftung, Photographer: Georgina Goodwin
Local operators are supported by an expert team during installation, maintenance, and repair of the system
2/4
© Siemens Stiftung, Photographer: Tilmann Straub
The water stems from local rivers, dams or boreholes and is filtered through the SkyHydrant.
3/4
© Siemens Stiftung, Photographer: Caroline Weimann
Clean drinking water is essential for health and has a positive impact on the sustainable development of a community.
4/4
© Siemens Stiftung, Photographer: Caroline Weimann
How can a decentralized drinking water supply be secured without donations? With Safe Water Enterprises, we have come up with a program that links innovative technology to an entrepreneurial model and Hygiene Promotion. As a result, entire communities in East Africa are gaining access to clean water.
Siemens Stiftung is helping remote regions of East Africa secure a sustainable supply of clean drinking water with Safe Water Enterprises. The water kiosks are set up as locally-operated social businesses. Clean water is sold from the kiosks at an affordable price. This money also covers the operating costs of the business, making Safe Water Enterprises a new source of income for people in local communities. The entire community is involved in all stages of the project. This includes Hygiene Promotion and Social Marketing, two essential aspects of successful Safe Water Enterprises.
In most cases, it takes two to three years for a Safe Water Enterprise to become financially independent and entirely owned and operated within a community. But how does a community end up with a Safe Water Enterprise in the first place? The process begins with an application to the program's local representatives: Paul Njuguna and Stephen Njuguna Wamuyu. Together with village representatives, they review a community's suitability for a water kiosk in terms of business potential and the need for the services a kiosk would provide. Next, the group fills out a form addressing many areas, including the current state of drinking water supply, water sources, village structure, and health status. Only one in four communities meets the criteria.
In the next step, the Kenyan research institute GMAURICH conducts a broad feasibility study over several days and analyzes the situation on the ground. The institute maps the entire area, marking schools, health clinics, and water sources. The center of village life is also recorded. Additionally, the representatives from GMAURICH speak with village elders and 50 randomly selected households in the villages, which contain an average of around 5 people.
The purpose is to gain an understanding of the true challenges facing the village and a sense of daily water consumption. Questions about the community and any local anchor organizations are quite important, as they will eventually be managing the water kiosk. If any committees already exist within the village, it indicates to us that the villagers already have experience working together as a community.
A team from the German broadcaster ARD visited the Safe Water Enterprise in Korumba in October 2016. The report "Sauberes Wasser am Kiosk" (Clean Water at the Kiosk) was aired on the science program "W wie Wissen."
The modular Safe Water Enterprise kiosks are equipped with mobile SkyHydrant water filtration systems. The filters use hair-thin fiber membranes to remove particles, bacteria, and viruses from the water. The filtration process requires no electricity, meaning the Safe Water Enterprises are not dependent on the local grid. We created the Safe Water Enterprise concept together with our long-standing partner, the SkyJuice Foundation, and work with our partners in Kenya on continual improvements.
The SkyHydrant: 10,000 hair-thin fiber membranes against bacteria and viruses. The SkyJuice Foundation's filter technology is well-suited for groundwater and river water. It can produce up to 10,000 liters of clean water per day for around 1,000 families. The SkyHydrant can be used for up to 10 years with minimal maintenance.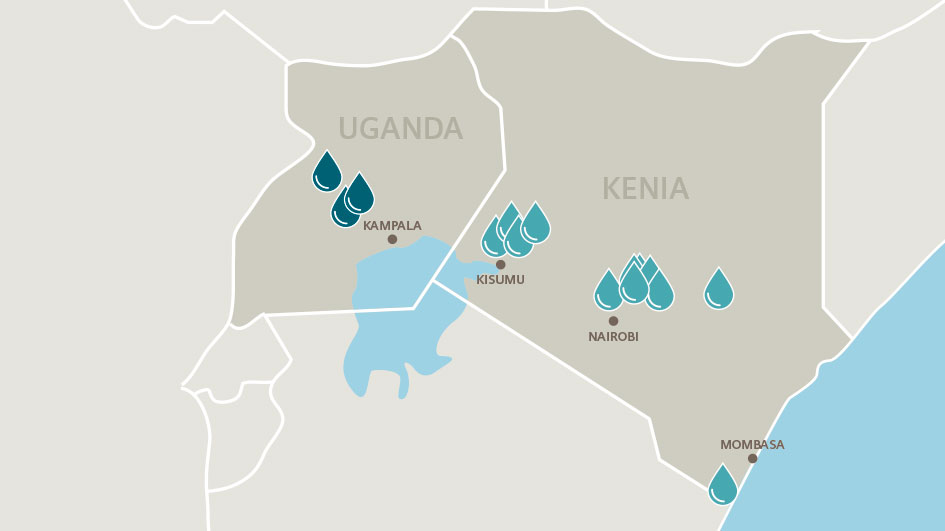 Siemens Stiftung has worked with partners to create 20 Safe Water Enterprises at 20 different locations since 2011. Our water kiosks are providing water to people in the following locations:
Kangemi, Nairobi
Maragua Market, Muranga County
Githembe, Muranga County
Ngoliba, Kiambu County
Watoto Wenye Nguvu School, Kiambu County
Korumba, Kisumu County
Kogweno, Kisumu County
Kudho, Kisumu County
Sondu, Homabay County
Wath Onger, Migori County
Tinderet, Nandi County
Nyangoro, Kisumu County
HowaMwana, Kwale County
Vitsangalaweni, Kwale County
Mutito, Kitui County
Geschlossen: Maragua Ridge
From local health centers, kiosk operators know that cases of life-threatening diseases such as cholera, typhoid fever, and diarrhea have been dramatically reduced since villagers started getting their water from Safe Water Enterprises. Information and explanation about water and hygiene plays an important part in bringing about this change. Illness-related school absences are also declining. Around 30 kiosk operators are running 20 kiosks. Fourteen of these 20 water kiosks have achieved sustainable operation and are now completely run from within the village. Two water kiosks were closed, and another is moving to a new location. In 2014, we worked with EAWAG, the Swiss Federal Institute of Aquatic Science and Technology in Zürich, on an evaluation of several Safe Water Enterprise locations and made improvements to certain aspects of our concept.
"More than water," an article in the trade journal "Water Solutions," provides further insights into our work
The technical aspects of the kiosks were developed by the Australian nonprofit SkyJuice Foundation. Hygiene Promotion is conducted together with the Kenya Water for Health Organization (KWAHO).
Safe drinking water is just one step on the path toward development, which is why we prefer to work with organizations that are already active on the ground in other areas.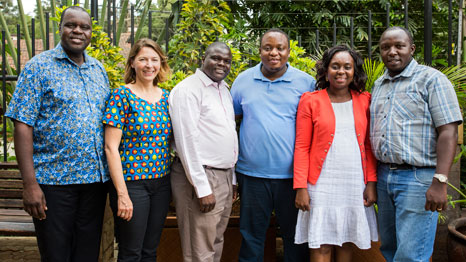 © Siemens Stiftung
Safe Water Enterprise Team (from left): Patrick Alubbe (Executive Director KWAHO), Christine Meinhardt (Siemens Stiftung), Caleb Simiyu (KWAHO), Paul Mwariri Njuguna (Siemens Stiftung, external consultant ), Linah Rugabela (KWAHO), Stephen Njuguna Wamuyu (Siemens Stiftung, external consultant)
Not in the picture: Marion Pabst (Siemens Stiftung), Tilmann Straub (Siemens Stiftung)
Project manager Safe Water Enterprises
External consultant Safe Water Enterprises
You might also be interested in