Vocational orientation prepares next-gen Nigerians for digital economy
Students learn 21st-century digital skills required by the Nigerian job market .
1/4
Students will make company visits, undertake internships and learn how to use digital platforms for job interviews
2/4
300 students from low-income families in Lagos receive IT and life-skills training.
3/4
Trainees come from five administrative districts out from Lagos.
4/4
Siemens Stiftung has launched a new Information Technology (IT) training project for high-school students and recent school graduates in Lagos, Nigeria. The project title BeMINT stands for mathematics (Mathematik), IT (Informatik), science (Naturwissenschaften) and technology (Technik). Funded by the German Federal Ministry for Economic Cooperation and Development (BMZ) and supported by the Delegation of German Industry and Commerce in Nigeria (AHK), the project will support 300 students coming from low-income families in Lagos. Siemens Stiftung will implement this project with the Lagos State Universal Basic Education Board (LASUBEB), a local NGO Empowering Africans Through Education Initiative (EAE) and private companies. At training will culminate in internships for the students. 
Nigeria is Africa's most populous country at 216 million people, with young people making up half of the country's population. As the youth population grows, so does the unemployment rate. Young women in particular struggle more to find jobs, accounting for more than 50 percent of unemployed youth. Widespread stereotypes, like jobs in the fields of Science, Technology, Engineering and Mathematics (STEM) are more suited to men, not only intensify the lack of digital skills and basic knowledge for women, but also make it difficult for them to access STEM careers.  
In Nigeria, most future jobs will require digital competencies. Currently, digital skills training is not yet sufficiently embedded in primary and secondary school curricula. As a result, large percentages of students neither have digital literacy and cannot operate computers nor afford internet connections. A study commissioned by Siemens Stiftung and executed by University of Lagos "Vocational skills of students and teachers and their pedagogical competency," in 50 secondary schools concluded that vocational orientation in Nigerian secondary schools was increasingly focused on the acquisition of theoretical knowledge and imparted little or no skills required for the current demands of the Nigerian labor market. 21st-century skills such as creativity, teamwork, problem-solving, and critical thinking are not addressed by any of the courses. Though vocational education is anchored in the Nigerian education system from the primary level it struggles with immense challenges such as a lack of computer equipment, internet access, laboratories and workshops in schools, as well as the qualification of teachers to adequately teach the subject.  
The Lagos education ministry has recognized the need for IT professionals to drive economic growth and is seeking support from international experts to train its young population in this area. Identifying the urgency, the German Federal Ministry for Economic Cooperation and Development is funding the project through IT training of 100 students (50 girls and 50 boys) in upper secondary school (between 16 and 19 years of age) and 200 school graduates (100 girls and 100 boys) from low-income households. The trainees come from five administrative districts of Badagry, Epe, Ikeja, Ikorodu and Lagos city. Siemens Stiftung along with EAE and LASUBEB (Lagos State Universal Basic Education Board) have curated a join six-week long intensive program, where the attendees learn IT skills training along with soft skills like writing a CV, preparing for an interview etc. 60 teachers from the 30 schools will also receive training in imparting IT training. To ensure that each group member is actively involved in the learning process, the training modules are based on "collaborative learning".  
Nurturing a vocational learning mindset
The program contributes to improving educational equity and opportunity for the youth from low-income households through after-school STEM and digital literacy education training. Also, they learn life skills through firsthand exposure to employees from private companies who prepare them for the job market. They also get a taste of real-work scenarios through company visits, internships and learn how to use digital platforms to exchange information with potential employers. The program also includes modules to introduce the fundamentals of the foundation of start-ups through STEM workshops. For this program, Siemens Stiftung is also collaborating with Nigerian national stakeholders, to systematically anchor vocational orientation in schools along with promoting further training for teachers in these areas in the country.  
The overall aim of the project is to instill a vocational learning mindset in the country through the students to their families and communities. The action-oriented, curriculum- and the hands-on knowledge imparted to the 60 teachers will benefit students in the long term. It will also leverage the structure-building relationships between governmental agencies, NGOs and small and medium enterprises (SMEs) for follow-up projects. Ultimately generating income to run the training center beyond six weeks and improve IT learning infrastructure in public schools in underserved neighborhoods.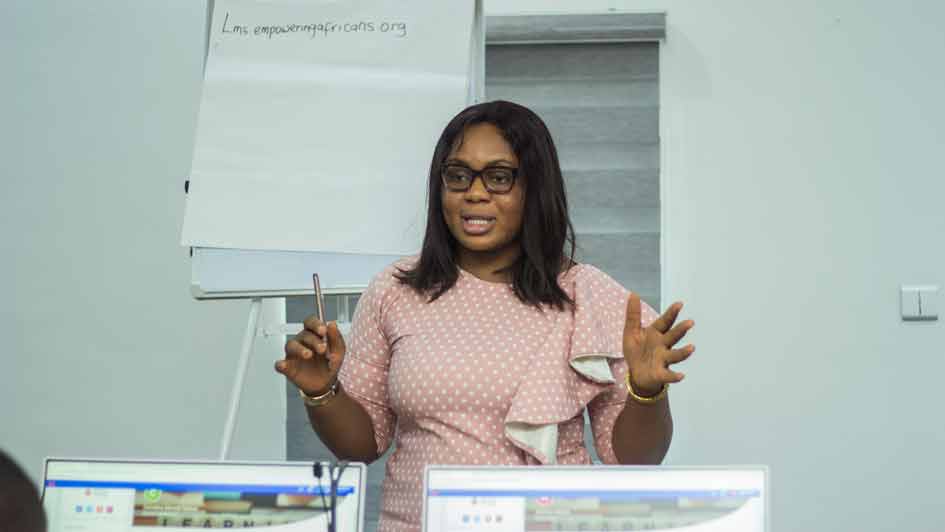 © Empowering Africans Through Education Initiative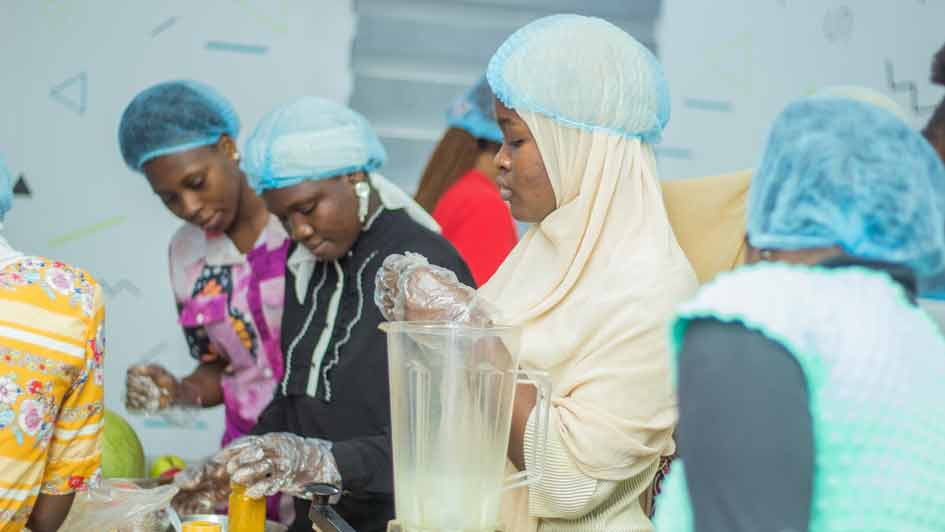 © Empowering Africans Through Education Initiative
Dr. Nina Smidt, Managing Director and Spokesperson of the Board at Siemens Stiftung.
The first cohort of participants reflect their learnings of the BeMINT program
Rafael Teck, Deputy Head of the Division for the Cooperation with Civil Society at BMZ.
You might also be interested in
More than 3,200 open educational resources in German and English

For teachers and students – for the classroom or independent learning

Materials available online and offline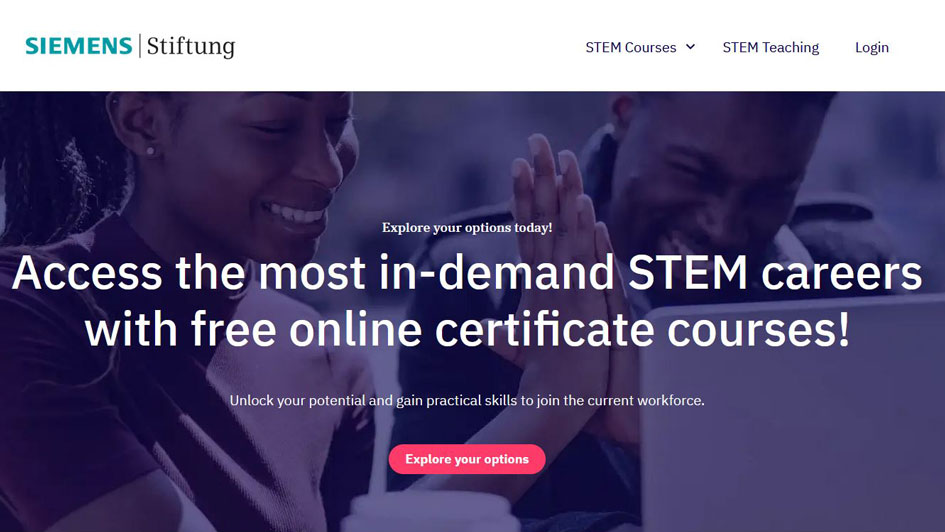 Web-based trainings on STEM careers
Online vocational orientation courses with atingi e-learning platform.