Even the smallest children learn about scientific phenomena in a playful way.
1/5
© Siemens Stiftung, Photographer: Uli Reinhardt / Zeitenspiegel
In Cuidad Victoria, inquiry-based learning and observing nature are top priorities.
2/5
© Siemens Stiftung, Photographer: Uli Reinhardt / Zeitenspiegel
Adapted Experimento modules have been deployed mostly in Mexican primary schools but are also found in kindergartens.
3/5
© INNOVEC, Photographer: Julia Fregoso Urrutia
The miracle of clean groundwater: This experiment shows how water can be purified and filtered without chemicals.
4/5
© Siemens Stiftung, Photographer: Uli Reinhardt / Zeitenspiegel
Support for girls in STEM education is an important part of the program in Mexico.
5/5
© Siemens Stiftung, Photographer: Uli Reinhardt / Zeitenspiegel
Experimento introduced in 2014
In Mexico, Experimento is combined with the Mexican educational program Sistemas de Enseñanza Vivencial e Indagatoria de la Ciencia (SEVIC) from INNOVEC
Deployed mostly in kindergartens, but also in preschool and primary schools in the states of Colima, Guanajuato, Hidalgo, Mexico City, Mexico's State, Puebla, Querétaro, Tamaupilas, Veracruz, and Yucatán
Emphasis on STEM support for girls
Training for about 600 educators
Around 36,000* children reached
* The number assumes that every instructed kindergarten or elementary school teacher shares the knowledge 5 times with one group or class, and a subject teacher shares it 5 times with two classes.
Country-specific developments
Specific curricular adaptation of Experimento I 4+ and I 8+ and combination with SEVIC program from our partner institution, INNOVEC The education program Experimento was adapted for the Mexican school system in a step by step process by INNOVEC (Innovación en la Enseñanza de la Ciencia). Since then, subject modules from Experimento I 4+ and I 8+ have been specifically developed for the Mexican curriculum that incorporate new units from the SEVIC – Experimento program. These are deployed in preschools and kindergartens but are also widespread in primary schools. Harnessing the synergy of two science-based education programs enriches teaching and learning in Mexico while positively impacting continuing education for teachers.
Targeted STEM support for girls Since 2016, Siemens Stiftung has worked together with UNESCO México to specifically promote STEM education for preschool-aged girls. This collaboration is based on an adapted version of the education program Experimento.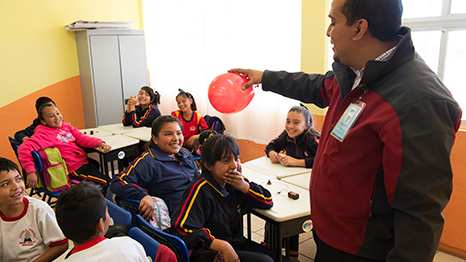 Oscar Calderón, teacher at Miguel Hidalgo primary school in Guanajuato
More information on the STEM Network, the role of individual partners, and current news and events can be found on our Spanish microsite for Experimento in Latin America.
Head of Siemens Stiftung Regional Office
Project management INNOVEC
Prof. Juan Carlos Andrade Guevara