Project closed | Project period: 2011–2018

Modern technologies with benefits for society and the environment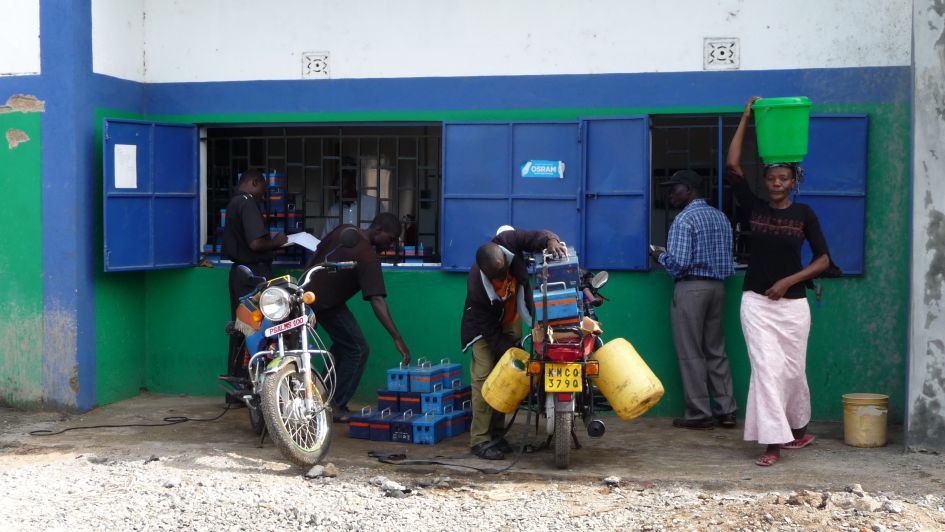 © © OSRAM, Photographer: Fotograf: Gerhard Mair
From 2011 to 2018, Siemens Stiftung promoted the use of renewable energy in Kenya and improved the energy and water supply in remote regions with their Water-Energy Hubs (WE!Hubs). WE!Hubs are solar-powered energy stations that operate independently of electricity grids. They can provide green energy and safe drinking water to rural regions that lack infrastructure.
For a small fee, local fishermen could rent rechargeable solar lanterns. These lanterns are affordable, environmentally-friendly, and without the health risks posed by frequently-used gas lanterns. WE!Hubs also provided small solar energy systems for home use, mobile telephone charging services, and clean drinking water. In addition, WE!Hubs offered jobs, continuing education programs, and income opportunities for the local population.
The supply of energy and water in sub-Saharan Africa is precarious. This affects rural areas in particular, where just 56 percent of the population has access to safe drinking water and only 17 percent to electricity. More than 80 percent of domestic energy is generated from kerosene and diesel, resulting in high costs for families and serious consequences for human health and the environment. With our concepts in the Development Cooperation working area, we contribute to overcoming supply deficits. We also create employment and training opportunities and promote local entrepreneurship.
What is the WE!Hubs concept?
Grid-independent stations WE!Hubs are powered by solar energy and are therefore independent of the electricity grid. They can be easily deployed in regions without infrastructure.
Environmentally-friendly and economical energy supply WE!Hubs use modern solar technology to generate electricity. For a small fee, customers can charge cell phones and rent rechargeable lamps and fishing lanterns as a replacement for widely-used and expensive petroleum lamps, which are harmful to human health and the environment.
Drinking water production Each WE!Hub also offers safe drinking water. Rainwater and groundwater are collected and purified through a solar-operated membrane filter system.
Income opportunities and continuing education WE!Hubs provide earning opportunities for local residents. Some can work directly in the WE!Hubs, while other people in the region can take part in the continuing education programs. Among the subjects taught are basic entrepreneurial skills and how to use information and communication platforms.
Building on the success of three pilot kiosks established around Lake Victoria by the OSRAM company and the Global Nature Fund, three organizations joined forces in 2011 to expand the project with the support of the European Union and Siemens Stiftung. As well as expanding the three existing kiosks, further solar kiosks were built at new locations near Lake Victoria. In addition to its role in promoting the project, Siemens Stiftung decided to offer continuing education programs around the WE!Hubs.
What has been achieved since the program began?
Existing hubs expanded with new equipmentThe existing hubs have been expanded to include computer rooms and many new, improved products. The hubs have also introduced a bar code system that enables them to monitor the products, such as lanterns, that are rented out. This means the hubs can regularly recharge the equipment and protect it from too much wear and tear.
Entrepreneurship training and mentoring program launched Regular training sessions address entrepreneurship, business management, interpersonal skills, customer service and financial management, as well as how to handle information and use communications media. This is followed by a six-month mentoring and coaching program that accompanies trainees on their path to becoming successful entrepreneurs. The program has trained some 500 self-employed and young people in Mbita alone.
Newly built WE!Hubs opened The first newly-built Water-Energy Hub was ceremoniously opened in Honge, a fishing village by Lake Victoria, on March 10, 2014. The local population celebrated this event together with representatives from the organizations involved: Light for Life, the Global Nature Fund, OSRAM, Thames Electricals, Siemens Stiftung and the European Union. It provides access to renewable energy, clean drinking water, computers and the internet, as well as the opportunity to take part in training and continuing education programs, giving people in Honge new opportunities for the future. The WE!Hubs in Sori, Ragwe and Homa Bay opened in the course of 2015.
Takeover of the We!Hubs by WeTu
All seven locations have now been taken over by our social enterprise WeTu.
Project management WE!Hubs