Project closed | Project period: 2012–2020

Affordable glasses for the rural population
The glasses are free of charge for pupils - because only those who can see everything on the blackboard have a chance of education.
2/4
© Lentes Al Instante Bolivia, Photographer: Max Steiner
Danger averted: Sunglasses prevent the strong UV light from damaging the eyes.
3/4
© Lentes Al Instante Bolivia, Photographer: Max Steiner
Siemens Stiftung had worked with OneDollarGlasses since 2012 until 2020. The organization was the first winner of the empowering people. Award for its efforts toward creating sustainable structures in developing countries for providing affordable locally-produced glasses for visually-impaired people. More than 150 million people around the world suffer from vision problems that could be corrected with glasses. However, glasses remain unaffordable for many people. Siemens Stiftung supported the association in expanding its activities in Latin America.
Around half of Bolivia's 11 million residents live in rural areas. Outside of urban centers, there are few, if any, eye doctors and opticians. The nonprofit EinDollarBrille (OneDollarGlasses) has taken on the task of improving the supply of glasses to these remote areas of Bolivia. Since 2013, they have worked with the local institution Lentes al Instante (LAI) on providing eye exams and affordable glasses. The best part: each pair of glasses is produced in Bolivia and can be adjusted to meet the needs of each customer directly on site. LAI also runs a training center in Santa Cruz de la Sierra, where up to 20 trainees can receive training and certification as eye exam assistants. So far, around 50 people have taken part in the training program. LAI provides jobs and a steady local income for around 10 people producing glasses and around 17 "Consulta Óptica" assistants. The organization also provides a civic engagement opportunity for international volunteers, such as those from "weltwaerts" a Red Cross volunteer program supported by Germany's Federal Ministry for Economic Cooperation and Development.
Powerful launch in Burkina Faso
In recent years, Siemens Stiftung has supported OneDollarGlasses in the strategic expansion of its activities, especially in Burkina Faso. OneDollarGlasses is now a large employer in Burkina Faso with 45 employees. The business is doing so well in Burkina Faso that it has become self-sustaining and can operate without assistance from donations.
The main goal in this region was to help as many schoolchildren with vision problems as possible. The organization's experience in the region has shown that around a third of all schoolchildren suffer from vision problems and are, therefore, unable to follow their lessons in school. Campaigns have been launched in 2019/20 at 40 schools in Bolivia. To support active participation in class, the glasses were provided free of charge to schoolchildren.
When possible, additional campaigns were planned for the wider communities of selected schools. Following an eye exam, glasses with prescriptions tailored to each person were available for villagers to purchase for around 10 euros. Despite the income from these sales, the business is not self-sustaining due to the high logistical effort involved in reaching the remote villages. Passing on these costs to the customers was not a realistic option as this target group of customers is among the poorest in Bolivia. To keep the price of the glasses as low as possible, LAI works with volunteers who complete the eye exam assistant training as part of their volunteer work.
In 2019, LAI reached 40 primary and secondary schools in regions surrounding Santa Cruz in addition to efforts in La Paz, Tarija, and Yacuiba-Chaco with its campaigns. The campaigns included eye exams, custom-made glasses for schoolchildren, and referrals to eye doctors if glasses alone were not enough (in cases of astigmatism, for example). Glasses constructed on-site meant that the children could select the shape and color of their new glasses. That turned the glasses into a personal fashion accessory and a source of pride for young people.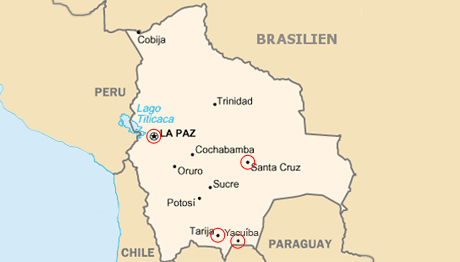 In Bolivia, intense sunlight also poses a serious threat to the eyesight. Without sun protection by hats or sunglasses, the exposure can be extremely harmful to the human eye. That is why sunglasses with dioptres were offered in addition to normal glasses.
Interdisciplinary support
The project was part of a collaboration between Siemens Stiftung and the German development organization Gesellschaft für Internationale Zusammenarbeit (GIZ) that focused on improving the quality of science and technology education in schools and increasing awareness about hygiene and environmental issues. In addition to the campaigns, the educational program Experimento was complemented with new teaching and learning content, and the entire program was integrated into the university curriculum as teacher training.
Are you interested in the experience of setting up local structures for a social enterprise, or would like to support OneDollarGlasses in other regions? Get in touch!
Project manager OneDollarGlasses Bolivia
You might also be interested in
Locally-adapted innovations with societal impact