Sustainability as a Growth Engine
Kenya is striving to build a future that combines robust economic growth and improvements in living standards with sustainability. It also hopes to avoid the pitfalls and mistakes made by industrial nations on the path to realizing its economic potential. So, how can development cooperations and new funding approaches help achieve this? Dr. Nina Smidt, Managing Director at Siemens Stiftung, is convinced that financing for social enterprises can be a useful instrument. This report looks at projects in a country aiming to expand its economic power sustainably and without detours or delay.
Elizabeth Atieno raises her arm energetically, gesturing towards the gray corrugated-iron houses here in Katito, a town in Kisumu County, close to Lake Victoria in western Kenya. She is the local chief, the area's national government official, and hopes to shape Katito's future, focusing in particular on social and environmental issues. "Only one house in four has a man living there," she notes. Many men have moved to larger towns and cities in search for opportunities, leaving their families behind under the care of their wives. These women supplement family income by engaging in subsistence farming and small scale businesses. On average, they earn 100 to 150 Kenyan shillings per day.
"However, daily deliveries of clean drinking water cost 100 shillings. That barely leaves enough for food to eat," Atieno says, her voice rising with anger. Unfortunately, these households rely on water from local rivers, from which livestock also drink. The rivers are contaminated with substances and traces of fertilizers that are eroded from the fields. The region has a child mortality rate of 14% – which is not even the worst in the country. The most common causes of death are diarrhea, cholera and typhoid, all of which are caused by dirty drinking water.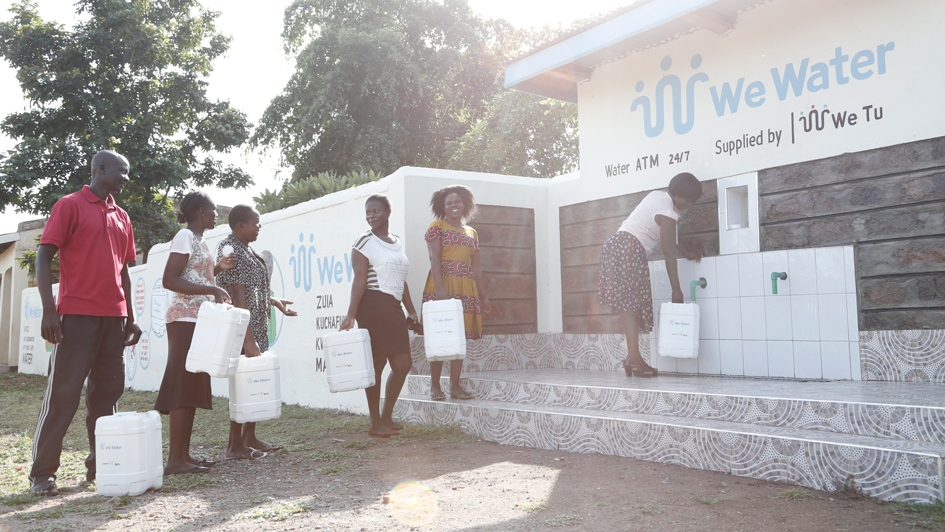 WeTu water ATM, © Siemens Stiftung
As Atieno explains, this is why she advocated for the construction of a drinking water kiosk in the municipality. WeTu, a social enterprise supported by Siemens Stiftung, is now building its 13th solar-powered energy kiosk in Katito – one of a total of 19 WeTu hubs planned around Lake Victoria by 2025. In addition to drinking water, these kiosks offer products and services including battery-operated fishing lanterns, electric motorcycles, electrical waste recycling and production of ice to improve cold chains and to reduce post harvest loss. It aims to supply 6000 liters of drinking water per day in Katito alone at affordable prices. WeTu included Atieno, the village leader, in its pricing deliberations.
"The local authorities know the area's income levels and circumstances better than we do, so working closely with people on the ground is essential," emphasizes Tilmann Straub, Project Manager Social Ventures at Siemens Stiftung. Straub has also served as the Managing Director of WeTu since the social enterprise was founded in Kenya in January 2019. Ultimately, after the foundation phase, his position – like all others in the company – will be occupied by a member of the local community.
WeTu is a novelty for Siemens Stiftung, with the German foundation serving as an active partner in the social enterprise. "As an active partner, we assume a certain entrepreneurial risk. It is a pilot project for the entire foundation landscape," says Dr. Nina Smidt, Managing Director of Siemens Stiftung. "We are convinced of the merits of this sustainable, long-term approach. It anchors companies firmly within communities so that these businesses can continue to operate profitably after the foundation has stepped back." The aim is to promote independent social enterprises rather than creating dependencies on grants and subsidies.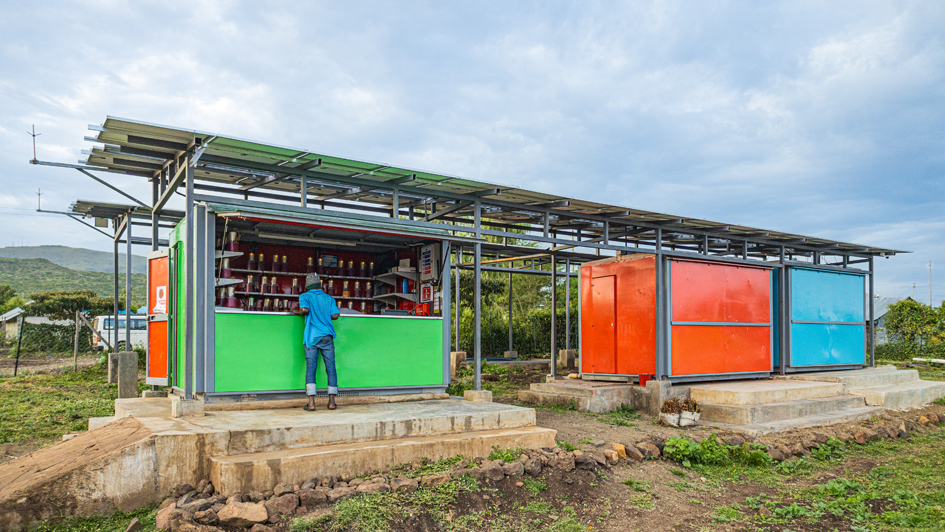 Solar powered WeTu hub, © WeTu/Siemens Stiftung
"It's not only profit that is important to us; so too is social impact. We work with a wide range of local stakeholders from the fields of politics, business and society to make this happen," explains Smidt, as she describes the strategy. So, how long does a social enterprise need to become self-sufficient? "Such approaches do not become profitable within two years. We would have to focus WeTu solely on profit maximization to achieve this – but ultimately, it's not only profitability but also the social aspects that matter," says Smidt. She expects it will be five years before the company can be handed over to local management.
The UN Agenda 2030, which includes the 17 Sustainable Development Goals, is broad in scope and deals with issues ranging from combating poverty to educational justice to climate protection. Consequently, sustainable business projects take a suitably broad-based approach.
For example, in addition to promoting the use of renewable energy sources, WeTu also works to create jobs with health insurance, development opportunities and equality for women. At present, 30% of the 42 jobs the social enterprise has created are occupied by women. This is despite the difficulties its Finance and HR Manager Julia Akinyi has faced in recruiting women, especially for management positions.
The "right to a clean and healthy environment" is anchored in the Constitution of Kenya.
Kenya generates almost 70% of its energy from renewable source.
An Environmental and Land Court was established to deal specifically with environmental matters.
From village life to business management
Julia Akinyi, Finance and HR Manager at WeTu, recounts her journey through a male-dominated world
"I grew up in a rural area and know the challenges that young women face – especially when it comes to collecting water, because this is usually their task. When I came home from school in the afternoon, the first thing I did was pick up the jerrycan and walk 5km to fetch water before searching for firewood. Girls and young women often suffer sexual harassment during this work. However, it's still a taboo topic; nobody is talking about it. By supplying drinking water in villages at affordable prices, we can avoid these kinds of incidents. That's why, in my view, water kiosks also contribute to equality."
Julia Akinyi's journey from village life to a management role in a social enterprise was not an easy one. "I was supported first and foremost by my mother. I saw how she worked in the fields for her four children while I, as the second-oldest at 8 years old, looked after my young siblings. She encouraged me to learn and study so that, one day, I could pull my family out of that life.  My school grades were good and I wanted to study microbiology at university, but we didn't have the money for my student fees. Instead, I completed a computing course at the Anglican Church before working in an office and saving up so that I could take out a loan for night school."
At the age of 20, Julia Akinyi moved to Nairobi, where she worked during the day, studied accounting at night. Today, Julia Akinyi is a Certified Public Accountant of Kenya – the highest qualification in the country's accounting system. In addition to the social enterprise's finances, she is also responsible for HR at WeTu, having completed university courses in human resources paid for by the company. "WeTu is more than just a career opportunity for me: I'm happy that, in my management role, I have the opportunity to draw attention to women's issues."
At 6am, Akinyi stands in the small port town of Nyachebe Beach and looks out across the fully laden fishing boats. The fishermen sail at night, using special battery-operated lamps supplied by WeTu to attract small Omena fish, which are a staple in the regional diet.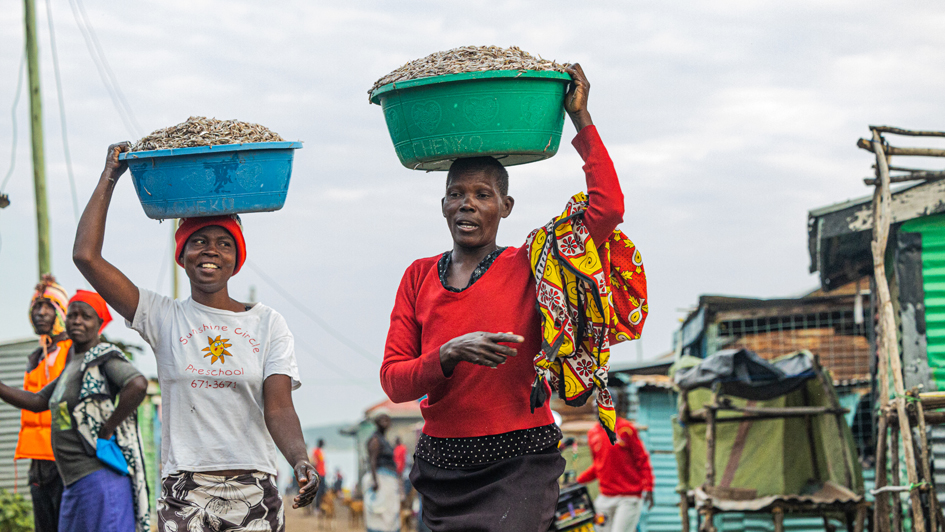 Women with dried fish, © WeTu
Women unload the boats at dawn and carry the catch ashore to dry. However, the women earn very little compared to the fishermen and boat owners. The 33-year-old Akinyi sighs. "African women are often afraid that they will be unable to hold their own against men in higher positions," explains the mother of one son and one daughter. Some of them would not believe that they are entirely capable of fishing or owning boats themselves and thereby reaping a larger share of the profits. This is why a good education is so important, Akinyi explains, as it creates self-confidence.
Teaching STEM subjects in particular is an essential part of creating a sustainable society, as Nina Smidt underscores. "In the age of digitalization, in which new technologies continue to influence societies, the journey for girls and boys alike starts with skills and knowledge in science and technology and leads to a job and a sustainable, responsible approach to shaping their society, their Kenya," says Smidt, emphasizing the key role of STEM subjects.
In the afternoons at Nyachebe Beach, young men, some already with e-bikes, transport the dried fish for sale. At some of its locations, WeTu rents out electric boda-bodas, which are manufactured locally in Nairobi by the Swedish-Kenyan social enterprise Roam (formerly Opibus). Boda-bodas are a form of motorcycle taxi common in Kenya. "Roam and WeTu have collaborated on e-mobility pilot projects in Homa Bay from the outset. This cooperation is a prime example of establishing networks in which common action can bring about systemic change," says Nina Smidt.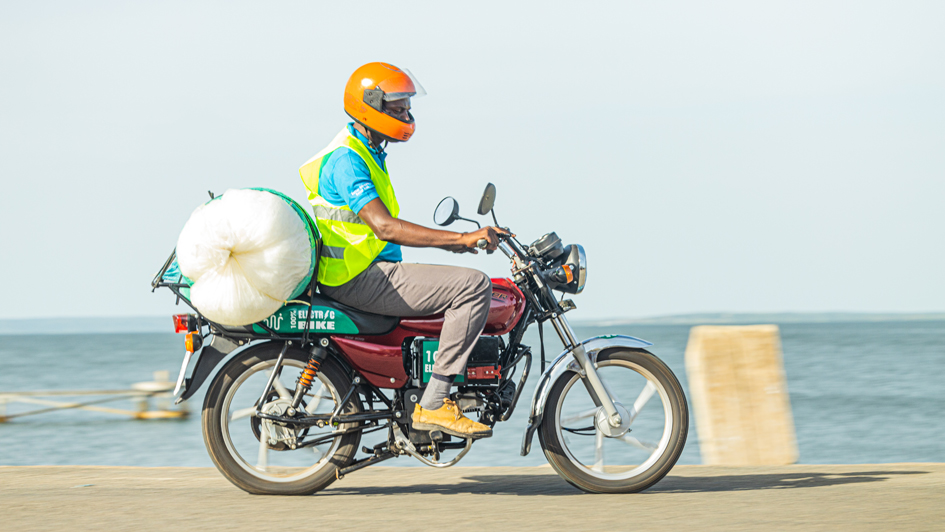 Electrical BodaBoda, © WeTu/Siemens Stiftung
Sustainable business is rarely a solo endeavor: ecosystems develop and various actors connect and come together, from social enterprises to government representatives. Evans Origa, Production Manager at Roam, is also part of this network. Until recently, the mechanical specialist worked in the Technical Center at WeTu in Homa Bay. However, after enrolling on an evening course to train as an automotive engineer, the 35-year-old decided to move to Nairobi. As he explains, government officials had been invited to the factory premises near the capital city's airport that morning. The social enterprise is hoping to establish a partnership, as there are plans to switch to electric buses in Nairobi over the medium term. Origa points to a gray bus in the factory courtyard, which carries the message "Ride Electric" in orange text. It is a prototype, a pilot project for the transition to electric drive systems. To date, 10 Land Cruisers have been converted to battery electric systems. The enterprise has also built a further 150 new electric motorcycles. For its part, Siemens Stiftung is multiplying the experiences from the WeTu e-mobility project and is approaching a further e-mobility project in Ghana with a very different perspective. 
Although Africa is currently responsible for just 3.8% of global greenhouse gas emissions, the emissions from the continent's transport sector are growing at a rate of 7% per year as African economies develop. The latest forecasts suggest that rising living standards and population growth will see the continent's energy requirements almost double by 2040. Over 1.2 million people, predominantly young men, drive boda-boda taxis in Kenya. One in three people in Kenya still live below the poverty line, with jobs for young people in particularly short supply. The motorcycle taxi industry is the largest and most important employer in Kenya. However, WeTu's plans to rent out e-bikes is riddled with obstacles: for example, many boda-boda drivers do not have a driver's license, which they not only need for registration purposes but also to satisfy the requirements of insurance providers. This type of reality check of the business model can only take place in person, as WeTu Managing Director Tilmann Straub explains "We are currently considering whether we can temporarily reduce the rental fees so that the drivers can pay for their driving test." It is this awareness that characterizes social enterprises.
Kenya's development strategy

In 2008, the Kenyan government presented its 'Vision 2030' development strategy. It aims to make Kenya an industrialized country with mid-level incomes by 2030. Five-year plans serve as implementation instruments. The Kenyan government strives to align its national strategy with the global Agenda 2030 development goals to ensure that Kenya is a country with a clean, safe and sustainable environment.
Tilmann Straub, Project Manager Social Ventures at Siemens Stiftung, explains why Africa is experiencing rapid, sustainable growth
"Just how green and how sustainable can Kenya's development be? It's a fascinating question. At present, almost 70% of Kenya's electricity generation is green, with the major share coming from geothermal energy, as well as hydropower and solar energy. The country also has an opportunity to develop sustainably in other areas, thereby leapfrogging generations of technological development. In Kenya, for example, rural areas have never had a fixed telecommunications network. Instead, the country skipped the transition from fixed-line networks to routers, as was the case in Europe, and moved straight to using mobile solutions. Another example is the M-Pesa mobile payment system. In extremely poor villages, such as those beside Lake Victoria for example, most people don't have a bank account. However, they all have M-Pesa, which enables them to pay for everything through their mobile network provider – from mangos at the market to motorbike taxi rides. In Germany, this could be compared to PayPal, a relatively new provider – though it only works in conjunction with a bank account. By contrast, M-Pesa has been around since 2007."
This effective digital infrastructure benefits the projects implemented by WeTu. "I get relevant data like sales figures at water kiosks sent continuously to my mobile phone, which allows us to monitor projects online at all times and make adjustments accordingly. While in Kenya, on average, up to 40% of water losses are due to leaks or illegal pipe connections, which has made many projects unprofitable and led to their failure, digital transparency makes them more economically viable and thus more sustainable. However, aside from the progress made in the digital sphere, there is a lot of catching up to do in almost every other area in Kenya, from infrastructure and hygiene to supply chains and education, which need sustainable, lasting improvements."
But, generally speaking, where does social entrepreneurship stop and where does mere business start? "In a social entrepreneurial approach, shareholders cannot take any capital out of the company or pay themselves dividends. Instead, the company retains the profits, which promote the growth of the company and the country," says Smidt. These funds flow directly into social enterprises' impact-oriented work, e. g. supporting sustainable healthcare systems.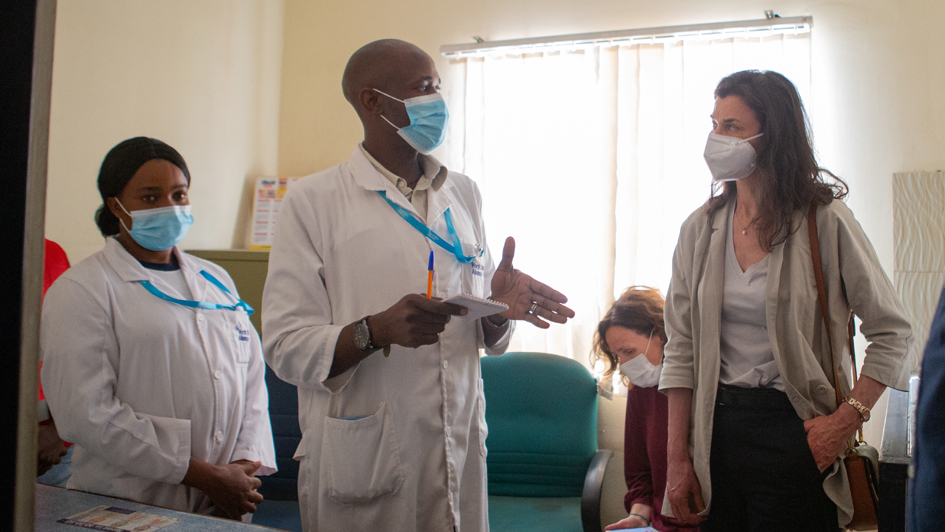 Nina Smidt in conversation with North Star Allaince, © Siemens Stiftung
One example is the North Star Alliance, a conventional NGO financed by grants and subsidies. North Star Alliance has been committed to providing healthcare in sub-Saharan Africa since 2006. This includes general health check-ups, treatments, and information on a range of diseases and illnesses, including tuberculosis, sexually transmitted infections, HIV, and COVID-19 for hard-to-reach groups, such as long-distance truck drivers, sex workers, and transport corridor communities, with more than two million people treated to date across its network of 27 Blue Box clinics in 10 countries.
At the Mlolongo Blue Box Clinic, the waiting room is full: 100 patients per day attend the clinic, which is housed in a converted shipping container on the main road connecting Mombasa and Nairobi. The organisation recently received financial support through Siemens Stiftung's empowering people. Network to help it adapt to the changing conditions brought about by COVID-19.
Nevertheless, Eva Mwai, Director of North Star Alliance, aims to reduce the NGO's reliance on grant funding in the medium term. "I would like to create a healthcare system that is capable of sustaining itself. We need to discuss alternative financing models, perhaps hybrid models that, in addition to normal, free services, offer private, additional paid services such as laboratory services, ultrasounds, and so on." Her words are barely audible over the roar of the traffic, with 700 trucks barreling along this road every day.
The three levels of sustainability
Eva Mwai, Director, North Star Alliance, outlines what a healthy healthcare system might look like
For Eva Mwai of the health-focused NGO North Star Alliance, a sustainable healthcare system has a number of key aspects. "I look at sustainability from three different perspectives: social, financial and operational. To me, social sustainability means being able to offer our target group services over the long term through a healthcare system that is supported and accepted by local authorities and residents. However, it is also a system that must be capable of independently and sustainably supporting and maintaining itself in financial and operational respects."
Further north, on the outskirts of Nairobi, lies Kiambu. There are fewer trucks here, with the landscape instead dominated by tea and coffee plantations. Yet, behind a large steel door, the idyll ends as traces of the city appear in the form of piles of garbage, conveyor belts and chaff-cutters. This recycling facility, operated by Daniel Paffenholz, is one of the largest waste disposal sites in Kenya. The social entrepreneur founded Taka Taka Solutions in 2011. Every day, the company's 500 employees – 48% of whom are women – recycle 60 tons of Nairobi's garbage, which is delivered to the site by 1,000 self-employed waste collectors. The facility has a recycling rate of 95%.
We are the only recycling company in Kenya that covers the entire value-creation chain," says Paffenholz, who has received support from Siemens Stiftung on several occasions since founding the enterprise, most recently through the Covid-19 Resilience Grant. Paffenholz studied philosophy and now aims to combine social and ecological responsibility with entrepreneurship. He has already established a company kindergarten in Mombasa so that the waste collectors do not have to take their children with them to garbage dumps. Another kindergarten is planned for Nairobi, while Paffenholz also subsidizes school fees.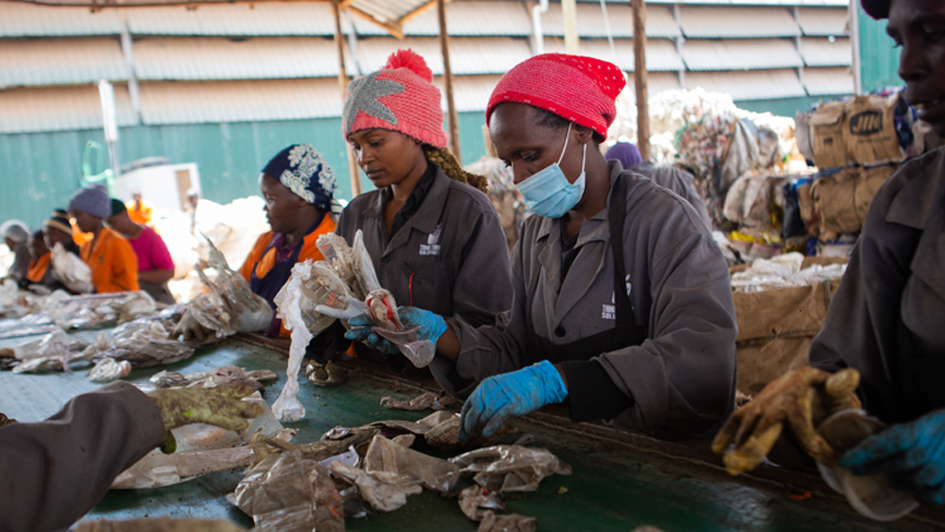 Recycling at TakaTaka Solutions, © Siemens Stiftung
In fact, he has grand plans for the enterprise: expanding into Kampala, the Ugandan capital, in 2023, followed by other Kenyan provinces; a textile recycling facility and a new screening plant for compost are currently under construction; recycling capacity is set to double by 2023.
Is the future hidden in garbage?
Daniel Paffenholz, founder and CEO of Taka Taka Solutions, believes so and describes how recycling creates jobs and school places
"A sustainable waste management industry is still very much in its infancy in Kenya. All you really need is an old lorry and you can collect garbage – unsorted of course – for money and then take it to a landfill. Poorer areas are still without any kind of waste collection system, so people bury or burn their waste. Of the 200 waste collection companies operating in Kenya, 100 are illegal and not registered with the environmental authorities. If you try to cover the entire value-creation chain of collection, sorting, composting and recycling, the whole process becomes extremely complex and less attractive. You have to be prepared to take a very long-term approach, accept high risks and recognize that you won't earn money right away. This has all led to a situation in which we are the only company in Kenya to cover the entire value-creation chain. Kenyans like low-risk business models; people here are often not entrepreneurs by choice but because they have no other way to earn a living. So, they search for lines of business with few barriers to entry in relatively secure markets.
To begin with, our operations were limited to waste separation, but we ended up moving into recycling because we didn't have any customer markets for many materials. In the next twelve months, we want to develop a recycling facility twice the size so that we can increase our processing volumes. We're also going to start waste collection, sorting and recycling operations in Mombasa. This will be followed in 2023 by a pilot project in the Ugandan capital, Kampala, with a waste purchase center and a small recycling facility."
Paffenholz also wants to systematically promote women. "Another idea we have is trying to attract women in rural parts of Kenya to become franchisees, and we'd provide a loan and training to get them started. They would then buy recyclable materials and pay the loan back to us in garbage."
Elizabeth Atieno from Katito would love for women in her area to have such opportunities. "I hope," she says, "that we will never lose a single child again due to polluted water and that women will be able to work so that they can give their children clean drinking water and a balanced diet." However, this future is only achievable through collective action. "When people come together in collaborative networks, they can realize ambitious social, economic and sustainability goals," as Nina Smidt surmises. A sustainable economy has many different aspects.