STEM education in Bolivia
Support for rural schools and indigenous peoples are only two of the many ways things are changing in the Bolivian school system.
1/3
Teacher qualification and continuing education is important for improving STEM lessons.
2/3
© Siemens Bolivien, Photographer: Joel Jammes
Professors from all over the country took part in the first Experimento workshop in Santa Cruz de la Sierra, Bolivia.
3/3
© Siemens Bolivien, Photographer: Joel Jammes
Life-long learning is Bolivia's top priority in its Education Agenda 2025. It envisions children and adolescents learning to understand and protect their environment, to respect "Pacha Mama" (Madre Tierra), and to help shape the future of their communities and their country.
Alongside top-line issues such as the environment and climate protection, supporting indigenous peoples is a high priority in plurinational Bolivia. Appreciation for indigenous cultures and languages has significantly increased in recent years, and self-awareness among indigenous ethnicities has grown as well.  Given the precarious situation caused by water shortages in the country, addressing socio-economic and ecological issues is a matter of survival. Education for sustainable development is important to increase awareness for the careful use of water and other resources. STEM education helps build knowledge and skills, including the ability to solve problems using technology.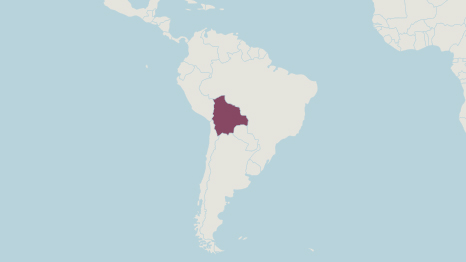 Two-tier school system: Primary school (Escuela primaria: 8 years), secondary school (Escuela secundaria: 4 years)
Education budget: 7.3 % of GDP (2014)
WEF Ranking Maths and Science: 125 of 140 (2016)
Important topics: Implementing Education Agenda 2025 and a "socio-communal-productive education" model
By working with local institutions and the Deutsche Gesellschaft für Internationale Zusammenarbeit GIZ (German Society for International Cooperation), Siemens Stiftung aims to attract young people to science and technology, build up their STEM skills, and spark an interest in university studies or vocational training in a STEM field. All activities are in line with Bolivia's national "Agenda 2025."
International educational program Experimento
Since 2017, we've been actively involved in supporting sustainable development in Bolivia with our education program Experimento. Thanks to close collaboration with the Universidad Pedagógica and local education institutions, Experimento has been adapted to Bolivia's education system and integrated into the university curriculum for teacher training. The goal is to create a link between scholastic learning and communal cohesion. Concepts such as contextual understanding, problem identification, and working toward solutions are critical, especially when it comes to sustainable development.
Collaboration with Deutsche Gesellschaft für Internationale Zusammenarbeit (GIZ)
We work with GIZ on health and hygiene education as part of the organization's focus on "Drinking water supply and wastewater management." Our education program Experimento has been expanded to include new teaching and learning materials for these subjects. In addition, certain schools in pilot regions are conducting campaigns that increase students' awareness about hygiene. Improvements to the sanitary infrastructure of these schools are carried out by the local government.
Seit 2011 unterstützt die Siemens Stiftung mit ihrem internationalen Bildungsprogramm Experimento Pädagogen und Lehrkräfte in acht Ländern Lateinamerikas dabei, das STEM-Verständnis von Kindern und Jugendlichen zu fördern und ihr Interesse an naturwissenschaftlich-technischen Zusammenhängen zu stärken. Die spanische Website Red STEM Latinoamérica informiert umfassend über das Engagement und fördert die Netzwerksaktivitäten der einzelnen Akteure.
Turning kids into classroom explorers