Latin America & Europe: an artistic dialog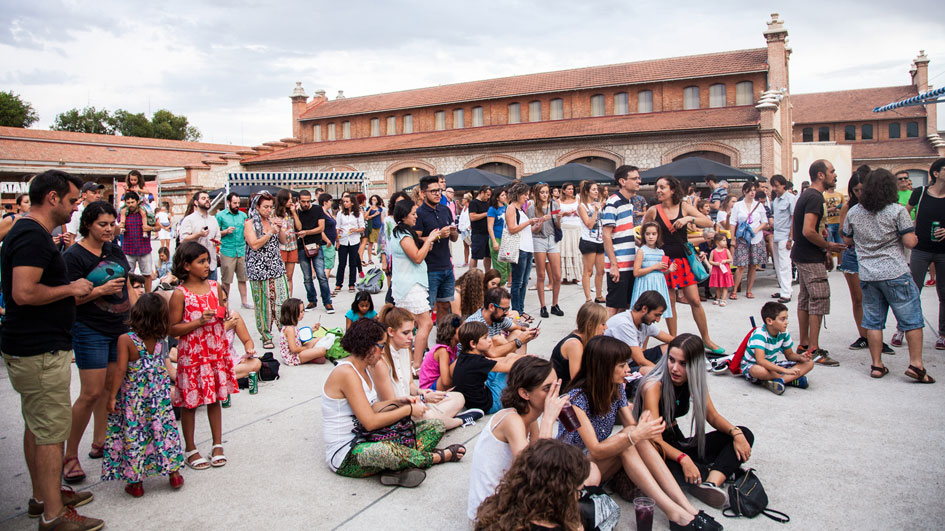 © Matadero Madrid
Terreno Común | Common Ground provides artists from Latin American and Europe with a shared workspace where contrasting perspectives and approaches can converge, and new ideas can emerge. Given the many ways cultures can intertwine, the project focuses on finding "Common Ground".
If the great thing about art is its ability to help discover what we do not know and what we do not understand, then opportunities for interaction are essential – especially when it comes to cross-border exchange between cultures. Art provides a testing ground where different perceptions, discourses, and social structures can converge and new knowledge can emerge. To this end, Siemens Stiftung has worked with Naves Matadero – Centro Internacional de Artes Vivas in Madrid along with other partners on an initiative that creates a professional creative space for artistic research and development. It includes artist residencies, urban interventions, and exchanges with local artists. These encounters lead to collaborative projects by artists from Latin America and Europe.
The project's first creative space launched Colectivo Traficantes in July 2017. Since then, artists from Argentina, Chile, Colombia, Cuba, Peru, and Uruguay have worked with Spanish artists on a number of collaborative projects.
Overview of previous works
"Will we dare to do what we say?" A question posed to residents in front of the Palacio Real in Madrid.
1/6
For the project "Correspondencia," the Colectivo Traficantes wrote letters to unknown addressees.
2/6
How can the descriptions of an "other" be overcome, Julián Mayorga and Andrés Gualdrón asked themselves:
3/6
In "Trasunto #2" the Chilean artist María Siebald translates human rights into sign language.
4/6
"Atlántida" is a landscape of resistance, but also a struggle for humanity, its strength, and fragility.
5/6
© Los Bárbaros/Laura Liz Gil Echenique
"The Stain" puts things together that don't seem to match.
6/6
"Correspondencia:" Migration of objects (July 2017)
"Colectivo Traficantes" was the first in a series of collaborative projects, running from 25 June to 24 July 2017. The group of artists (Mercedes Halfon/Argentina, Adriana Bermúdez Fernándes/Colombia, Diego Alejandro Garzón/Colombia, Laura Liz Gil Echenique/Cuba, Jorge Tadeo Baldeón/Peru, Leonor Courtoisie/Uruguay) first came together during Experimenta Sur 2016 in Bogotá. As a multi-disciplinary collective, the group created art using communication tools such as Skype, handwritten letters, or by mailing objects. Every day, countless objects move in some way around the globe – as traded goods, on computer screens, or among the personal belongings of migrants. By following the movement of these objects, there is a lot to learn about the adaptability of societies. As part of a research project, the collective examined the complex ties between personal and political realities and developed a series of actions called "Correspondencia," a series of activities in which the group gave new meaning to trade and communication. The results were on display in a public project space featuring an exhibit, discussion, and performative elements from 18-21 July 2017 in the Matadero cultural center. After that, the project continued as a work-in-progress in Buenos Aires.
"Proyecto Pregunta:" Urban spaces put to use (July 2018)
How do we want to live with each other? From 11-22 July 2018, members of the interdisciplinary Chilean collective Mil M2 joined the Spanish artist Javier Cruz in exploring social life in eight districts in Madrid. Their intervention, "Proyecto Pregunta," established a public space for reflection on current events and personal thoughts while creating opportunities for dialog. The project was implemented in cooperation with Veranos de la Villa.
"Atlántida:" A rebellious part of the city switches continents (November 2018)
In Madrid's Matadero, Cuban author and theatermaker Laura Liz Gil Echenique worked together with the Spanish collective Los Bárbaros. The collaborative project is based on the story of Madrid's Cerro Belmonte district from 1990. The residents, unhappy with the political situation, declared their district's independence from Spain and applied for asylum in Cuba. In August 2018, the artists continued working on the piece in Cuba. The premiere was on 30 November 2018 at Naves de Matadero in Madrid.
"Islas Atlánticas:" Fictitious archipelago between cultures (February 2019)
"When we characterize others, to what extent are we characterizing ourselves?" Julián Mayorga, a musician living in Spain, and Andrés Gualdrón, a Colombian artist, asked themselves this question in their work at Centro Etopia de Zaragoza, Naves Matadero and later in Colombia. The narrative of their collaborative project "Islas Atlánticas" centers on the creation of a new archipelago in the Atlantic Ocean. In this parallel world between the continents, the artists explore questions of migration, settlement, and cultural interconnectedness. The result was a book, a CD of the production, and a concert, which premiered from 15-16 February 2019 at Matadero in Madrid.
"The Stain:" Things that don't appear to go together (March 2019)
Spanish choreographer Maria Jerez created a room of shared knowledge with her production "The Stain," where objects of differing natures coexist and draw our attention. The piece was performed from 29-31 March 2019 in Madrid. During the production process, she invited a carpenter, a musician, a painter, and a baker to bring objects that seemed out of place when put together.
"Trasunto #2" / "30 ADH:" Translating writing in motion (April 2019)
Chilean director and actor Maria Siebald explored the process of translation. In her initial research phase in June and July 2018, she worked in Madrid with deaf communities on sign language interpretations of contemporary Spanish poems. In the production phase that followed from January to April 2019, she came up with her production "Trasunto #2," which was performed for the first time from 5-7 April 2019 in Naves. The film "30 ADH / Artículos de los derechos humano" was created at the same time. In 30 short pieces, the film translates each article of the 1948 Universal Declaration of Human Rights into sign language, transforming the document into choreography. The installation was on display in Madrid from 5-21 April 2019.
"Habitar el Gesto": Collective Project at the birthplace of the Cuban poet Loynaz (February 2020)
Since October 2019, the Spanish architect and artist Santiago Cirugeda and his collective Recetas Urbanas together with a team of Cuban institutions and experts in history, architecture and art have been working on a new project in the Terreno Común series that aims to revive community spirit in a legendary place: the birthplace of Cuban poet Dulce María Loynaz in Havana, Cuba, threatened by decay. The project involves the neighbourhood in the transformation of the vulnerable architectural and social space of high cultural value. The resulting collective work can be seen from 7 to 9 February 2020.
"El Arcano de la Quina": Dispute over the discovery of the quinine (March 2020)
Mapa Teatro's project "El Arcano de la Quina" focuses on the scientific controversy surrounding the discovery of the quinine and looks at its biopolitical context. "The clearest example of how scientific knowledge, colonial power and the discourse of purity of blood were closely linked in New Granada is the famous dispute between doctors José Celestino Mutis and Sebastián López Ruiz over the paternity of the discovery of quinine", explains philosopher Santiago Castro. The project will initially explore archives in Madrid and Bogotá. The results of the research will be presented in Naves de Matadero in March 2020.
Currently, the Spanish architect Santiago Cirugeda and his collective Recetas Urbanas are working in the legendary birthplace of the Cuban poet Dulce María Loynaz in Havana. The results of the collective project "Habitar El Gesto" can be seen from 7 to 9 February.
In March 2020, Naves Matadero will present new findings from the research on the project "El Arcano de la Quina". The archives of Bogotá and Madrid were searched to trace the famous scientific dispute over the discovery of the quinine plant.
Project manager Terreno Común