Improved livelihood prospects for young people
The Mityana District in central Uganda is the pilot region for the unique TeamUp project in Uganda.
1/1
© Hanns R. Neumann Stiftung
In collaboration with the German Ministry for Economic Cooperation and Development, Deutsche Stiftung Weltbevölkerung (German Foundation for World Population), and Hanns R. Neumann Stiftung, the TeamUp program creates new opportunities for young people in rural regions of East Africa. The program's comprehensive approach helps these young people find new avenues of employment, take part in public life and policy development, and lead healthy, self-determined lives.
TeamUp creates solutions in Uganda that are efficient, structurally relevant, and broadly impactful. Uganda has one of the world's youngest and most rapidly growing populations. In 1990, the country's population was 16.7 million people; by 2014, it had climbed to 34.6 million1. Roughly half of the population is younger than 15 years old2. TeamUp recognizes the realities lived by young people in rural Uganda and implements changes that permanently increase their prospects for the future. The program responds to the complex challenges facing young people with a holistic approach that addresses economic, social, healthcare, education, and infrastructure issues.
The pilot program has reached more than 50,000 women and men between the ages of 15 and 30, including their families, in five subsections of Uganda's Mityana District. The program also seeks to reduce migration into urban centers. Due to the proximity to the capital, Kampala, roughly 30 percent of young people living in Mityana migrate to the city3.
The primary goal of the initiative is to improve the quality of life for young people by increasing incomes and providing reliable healthcare that includes unrestricted access to family planning counseling. Young people are supported in leading healthy, self-determined lives and playing an active role in the development process.
TeamUp adopts a multisector approach. The partnership between foundations and the German Ministry for Economic Cooperation and Development (BMZ) leverages synergies and collaboration to achieve better and more comprehensive results. The program brings together the strengths and innovation potential of each of the participating partners for the first time, which increases the positive impact of their local activities and helps more people. This collaborative approach efficiently pools public and civil society resources at the international and local level to permanently improve structures.
The initiative brings together German and Ugandan development partners. It is designed as a long-term effort that is scalable and open to additional collaborators. New private and public sector partners for financing and implementation can become part of the consortium by contributing their expertise to the multisector approach. Funding for TeamUp is divided between the participating foundations and BMZ, with each contributing half. A total of six million euros has been committed to the first three years of the pilot program in Uganda.
For the pilot program in Uganda, Siemens Stiftung supports the development of an innovative solution for water system maintenance. Just one-third of households and only 40 percent of schools currently have access to a functioning source of water in Mityana. The biggest challenge is maintenance: Most available water sources are non-operational due to the lack of structures for management and upkeep.
Siemens Stiftung also works with local partners on improving sanitary and hygienic conditions in schools and developing better irrigation methods for smallholder farmers. In addition, activities that focus on entrepreneurship and income generation for young people are an important part of the program. For this, Siemens Stiftung draws upon its expertise and networks in the fields of water and sanitation, technology, and social entrepreneurship.
Whave Solutions as a strong local partner
The local partner for reliable safe water supply to rural schools, clinics and homes is the Ugandan social enterprise Whave Solutions. Whave works with local authorities and communities to establish stable public private partnerships (PPP) structures following national government policy on safely managed water supply. The policy requires professional maintenance service providers to be appointed by local government and to collect affordable service fees from community water committees, ensuring that the community water supply is reliably functional. Whave has been appointed as a maintenance service provider by many district water authorities, and contracts and trains local technicians who are members of hand-pump mechanics associations, to carry out preventive maintenance and immediate repair. The social enterprise provides a toll-free telephone line to all the serviced communities, and ensures that women take leading positions in community water committees. The introduction by the Government of Uganda of professionalized regular maintenance addresses the issue of prolonged and frequent water supply breakdowns which have been for many years a underlying reason for girls missing school, early motherhood, poor hygiene in rural locations, and infant mortality through waterborne disease. Whave is the leading maintenance service provider in Uganda, setting an example of cost-efficiency and performance, helping other service providers start work in other areas, helping government implement the national O&M framework, and assuring many hundreds of communities of safe water every day.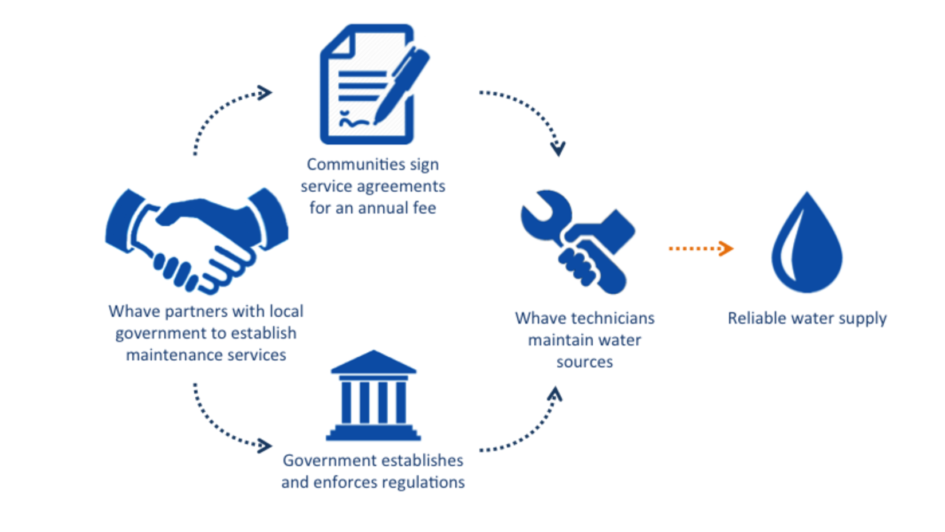 © Whave Solutions
Since the beginning of the program, TeamUp has documented its achievements and learning outcomes. An external, scientific evaluation institute is also monitoring the program and will explore ways of transferring results to other projects and making the findings available to the public.
1 State of Uganda Population Report 2017
2 National Population and Housing Census 2014
3 National Population and Housing Census 2014
Project manager TeamUp Uganda