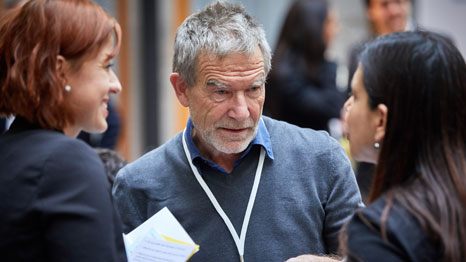 Dieter Arnold, Experimento trainer
The man with science in his suitcase: Dieter Arnold trains teachers all around the world in the Experimento concept
Dieter Arnold takes some unusual luggage with him on his travels. One half of his suitcase is typical enough: a pair of jeans, shirts and a small wash bag. The other half contains items that have raised the eyebrows of many customs officials: cables, propellers, balloons and solar cells to name just a few. The places he visits are diverse and colorful – just like the people he meets there.
Arnold is a trainer for the educational program Experimento. He shows teachers all around the world the principle of learning through discovery and, since 2010, has already visited Germany, South Africa, Kenya, Chile and Peru. The question has been the same everywhere: How can I inspire children for science and technology topics and even encourage them to pursue their own ideas and projects using what they have learned?
No fear of experimenting in the classroom
In four-day workshops, the trainer shows teachers how to prepare exciting experiments with simple equipment and implement these in science and technology teaching in an educationally appealing way. Experiments enthrall not just children, but teachers too, as is evident from the frequency of missed coffee breaks and voluntary overtime once they get started. "Many teachers first have to learn how to experiment themselves. In many cases, their training at school and university had few practical components," says Arnold.
"By using simple, readily available materials and showing them interactive methods, we want to take away their fear of experimenting in the classroom. Many of the teachers are amazed: 'What? You can explain such complex topics with these simple things?'" A firm favorite, for example, is the homemade model of the lung: an empty plastic bottle, a small tube, two balloons and some sticky tape. That's all it takes to make a demonstration aid for biology lessons.
Sharing enthusiasm and experience
Arnold could have retired long ago, but after 35 years as a chemistry and sports teacher, his passion for science and teaching was only growing further. Since then, he has traveled to the most diverse of countries in Africa and Latin America to hold teacher training workshops. His motivation? Science is close to his heart. "I want to play my part in getting scientific topics across to students and inspiring them. I enjoy passing on to others the experience I gained in my years of teaching," says Arnold.
His immediate inspiration was his work as a teacher at the German International School in Cape Town from 1991 to 1999. "I got to know teachers there from the nearby townships and discovered how limited the options were for learning through discovery given the resources that the schools had. Together, we thought about how we could substitute simple, cheap materials for expensive equipment in chemistry and physics," recalls Arnold. "That was how I came to give my first teacher training seminar." Since 2010, he has been working as a trainer for the educational program Experimento and helped to develop the experiments for the Experimento I 10+ module.
Inspiring people to take their own approach
Arnold puts intensive preparation into all of his workshops. The Experimento manual deliberately leaves room for him to work with local partners and integrate additional practical examples into the program that reflect what is distinctive about the region. "The principle of electric circuits is the same everywhere, but the possibilities for using them are endless," explains Arnold. "In Kenya, for example, we talked about how to use a simple device for measuring the depth of a well. That's a practical example which teachers can use in their lessons and then even build together with the children. In Chile, meanwhile, the learning unit on electrical circuits is linked to the geography curriculum. "Together with the workshop participants, we made a device for an electrical quiz game, which involves correctly identifying the different countries of Latin America and teaches the students about their region of the world," says Arnold. "It is precisely this local and extremely practical relevance that motivates the students to engage with science and technology outside of school."
Bridging global and local knowledge
"In South Africa, we combine the study unit on water purification using hollow fiber membranes with techniques that have been handed down for generations. Sucking dirty river water through a small piece of sugar cane before drinking is essentially the same principle," explains Arnold. This bridge between global and local knowledge fascinates him. "It's not about replacing the knowledge that has been handed down, but integrating it," he emphasizes. "That's something that benefits everyone involved."
Arnold sums up the project: "The Experimento program is ultimately only a catalyst. The methods imparted by the workshops encourage teachers to think beyond the instructions provided to them. New and creative approaches are born – a completely different type of teaching."