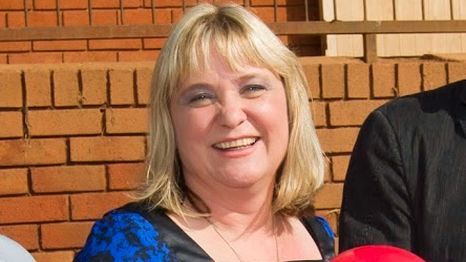 Kathyrn Kure, Managing Director of the nonprofit STEAM Foundation
Full steam ahead: STEAM in South Africa
Kathryn Kure, founder of the STEAM Foundation, wishes to generate all the foundation's name implies – momentum. The foundation facilitates the future prospects of South Africa's youth through targeted teacher training in the areas of science and technology. Siemens Stiftung's international Experimento program provided the push for the nonprofit project. 
Kathryn, what motivated you to start the STEAM Foundation?
"Education is the most powerful weapon which you can use to change the world," Nelson Mandela once said. Through the STEAM Foundation, I would like to ensure that South Africa's youth are able to make use of this opportunity. A contemporary science and technology education (STEM) plays a special role in this. It is the basis for technical innovations and for the ability to establish interrelationships – two important prerequisites for entrepreneurial action and thereby a capability that is crucial for the future of South Africa in particular.
What is the central focus of the work you do?
Daily life in many South African schools is very different than in Germany: Class sizes of 80 students are no rarity. Students often learn by rote and seldom ask questions. Through the implementation of Experimento, the STEAM Foundation would like to change that at as many schools as possible. With Experimento, we're offering an educational program based on the principle of learning through discovery, which places shared observation, description, and explanation at its core. This form of teaching encourages students like no other to think independently and to develop solutions that are also relevant for their daily lives, such as when it comes to pollution, climate change or scarce water and energy supplies.
Why is it named STEAM Foundation NPC?
Implicit within the nonprofit company STEAM is the abbreviation STEM. The A, which stands for "Arts", expands the horizon to include the humanities, creativity, and the passing down of values. Only once we've succeeded in implementing classical STEM disciplines creatively and in a solution-oriented way with respect to current global challenges will we be able to contribute to sustainable social development.
What part of the start-up phase is pivotal for success?
There's a wonderful image we have here in South Africa: "We need rainmakers." In other words, we need well-known people who based on their expertise can carry forth our mission into influential social circles – such as politics, business, the sciences, and the media. I am very pleased that we were able to win over notable figures from the education sector for our Board of Trustees.
What are your first steps?
Concretely, we must successfully establish the Experimento program in as many public schools in South Africa as possible, with the continuing education of teachers being a central focus. They are the key people responsible for the educational success of students. And we want to encourage them to facilitate independent experimentation during lessons. Furthermore, we are currently adapting the experimentation materials to South African needs in a way that is suitable for different ages and lesson plans. And on top of that, we are developing a business plan as well as a fund-raising strategy to offer the associated teacher workshops nationwide in an efficient and economically viable way. South African companies are legally bound to support social projects. So of course it helps immensely that Experimento is already certified.
The most wonderful success I could wish for is that teachers, through our training, become more enthusiastic and learn how to carry out experimental exercises despite large classes. I would like to see the concentrated faces and hear the excited laughter of the children when they have their aha moment.