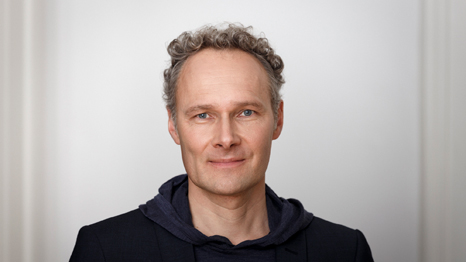 Joachim Gerstmeier, project lead for performing arts at Siemens Stiftung
Art changes through experience
At a time of increasing social upheaval, the theater academies EXPERIMENTA SUR, MOVIMIENTO SUR, and PANORAMA SUR provide space for exchange and convergence in Latin American countries. In an interview with Anne Phillips-Krug, the project's lead – Joachim Gerstmeier – explains how artistic collaboration leads to new ideas that help steer diverging social perspectives back toward each other.
Mr. Gerstmeier, you've just returned from the sixth edition of EXPERIMENTA SUR in Bogotá. What was the focus of the academy this year? Did recent developments there play a role?
EXPERIMENTA SUR is about looking for new, scenic forms of expression in response to what is happening in politics, culture, and society. The theme this year was "Remembering and Forgetting", which did indeed include discussion about the peace process in Colombia. The question of peace versus justice is quite divisive there at the moment.
This refers to the armed conflict in Colombia that cost hundreds of thousands of lives since the 1960s. How do you approach such a difficult topic?
One attempt at addressing the issue was a lab that brought experts from varying fields and different countries together with the theater participants. There was an anthropologist, a memory researcher, a writer, a judge, a psychologist, and a human rights lawyer. They listened to a recorded statement from one of the victims of the armed conflict. One recording was of a woman describing, among other things, how she killed a guerrilla fighter who was going after her daughter – how she changed from victim to perpetrator. As the tape played, the participants got very quiet. The experts really struggled for words to examine what they had heard in the context of their fields. The judge, for example, was conflicted between what she considered humanely justified and legally tolerable. In the second part of the lab, the participants worked with the experts on scenic depictions. It was impressive to see the layers of dialog that formed through the otherness of the artistic language, because everyone, of course, contributed experiences from their own country.
Mercedes Halfon (Argentina), Jorge Taseo Baldeón (Peru) and Laura Liz Gil (Cuba) explain what participation in the theatre academies means for their work.
© Siemens Stiftung
What possibilities and chances do you see when artists from different backgrounds and countries come together to work on one subject at an academy like this one?
The attempt to make sense of it all in this combination of expert dialog and artistic research depicted it quite well: You need dialog with people to ask questions. In some cases, you might not even know that those same questions are relevant to you personally. You also need labs like this where ideas and attempts are allowed to fail, or where you approach the limits of your expressive and representative realms. I think the most important thing is simply to experience it. The academies are an independent, safe space for reflection and criticism, which is hardly achievable given the usual frailty of most working situations. The chance to break out of everyday life and to ask where our profession stands in society – that's a pretty substantial motor for innovation. The fact that artists from nearly all Latin American countries come together does more than create dialog and exchange. The academies are inherent models for collaboration, from which new networks are constantly emerging. 
What are some networks and initiatives to emerge over the years?
There was an interesting project from the 2015 PANORAMA SUR in Buenos Aires, started by the two heads of the academy, Cynthia Edul and Alejandro Tantanian. It was called "Palimpsesto," a piece written by eight authors and staged by three directors – all former participants of the academy from years past. Then there were three choreographers at MOVIMIENTO SUR – one from Brazil, one from Chile, and one from Mexico – who got together under the name "Vínculo Sur" and created collaborative projects at a local level in the three countries. They were after creative impulses that went beyond the connection to the other choreographers. The individual was in focus, which is different than the "Grupo Traficantes" and its focus on collaborative work…
"Grupo Traficantes" consists of former EXPERIMENTA SUR and PANORAMA SUR participants who have now been invited to contribute to the academies...
"Grupo Traficantes" are six artists from Argentina, Colombia, Cuba, Peru, and Uruguay that came together on a project idea during EXPERIMENTA SUR in 2016 in Bogotá and have been working as an artists' collective ever since. That's one thing that the continuity of the academies can achieve, establishing organic networks that are often richer and more meaningful than defined institutional or political networks, because they are driven by common interest and carried by the shared subject.
And the results of their collaboration so far were presented this year at EXPERIMENTA SUR?
Correct. "Correspondencias" is a multifaceted project about "Closeness and Distance in Latin America." It was inspired by "Crónicas de Indias," the reports of the European colonizers. Except the perspectives are reversed, and experiences, objects, and information about daily life in the various countries are exchanged and brought together in a collection of materials. The result was a letter project, a performance conference, and a website. For the letter project, "viewers" in Cali and Bogotá could register on a website and would receive, over the course of a week, several handwritten letters – chronicles of everyday observations, political commentaries, and societal topics from the artists' home countries. They experimented with a new form of creative writing that was based on history in an attempt to create an affective network that transcended borders. The group is going to continue the project in July / August at PANORAMA SUR, and develop their activities further in other places as a work in progress.

What inspires networks like these?
One part is the desire for more connectivity on the continent among theater professionals. Another aspect is at the individual level, where there is often the wish and the hope to broaden your horizons by incorporating perspectives from others into one's own work. I think that is related to the fact that in many of these countries – similar to us, by the way – society is dramatically drifting apart. There are numerous parallel perspectives and realities, meaning such a network also represents the possibility of drawing these disparate perspectives back toward each other.   
Each country and scene has its own sense of urgency. Does the networking and the external input from international performers who are invited to participate run the risk of too much conformity? How can unique work be conducted?
We are currently working with the academies to ensure that these rich sources of cultural expression on the continent are seen as a resource, and that the diversity of approaches isn't superseded by marketability or folklorization. In a local context, these efforts have their own political and societal force. At the same time, we all face the question of how to get a handle on how our societal horizons are changing through the influence of globalization and digitalization. It is important for the artists to shift the focus to completely different parts of the world to see how other societies address questions that the artists have about their own societal environment.
We've talked a lot about the artist networks, but what about the partner networks?
The academies are all partner models. When they are first created, it needs to be clear that the need for exchange and debate among Latin American theater professionals exists. For this to happen, regional structures are needed that go beyond the capabilities of the local or national institutions. As an international organization, we've joined forces with local groups and were able to show, in an initial test phase, the potential of a project like this. Next, supporting organizations are implemented and partner networks established. These include local cultural institutions, private foundations, European cultural institutes, and universities. The Goethe-Institut and its regional network of institutions takes on an increasingly important role by providing stipends for Latin American artists. In Chile and Colombia, the public sector has also been on board for a few years now. The network is in constant motion. It's a challenge for the supporting organizations every year that demands extremely high level of personal engagement and tireless working efforts. At the same time, the modular principle of the academies always provides new partners with the opportunity to become part of the network in the future.
Looking further down the road and speaking about the impact of the academies, how will things move forward? What is the ideal future?
Ideally, things will snowball: from the artists' interactions and experiences comes more and more cross-border discourse and projects on subjects where there are no easy solutions. That gives the necessity of experimental theater a certain cultural and political weight, which is hopefully recognized by local and national authorities. Independent projects that inject a lot of innovation into the respective scenes need a solid foundation and a continual environment. The only way theater can powerfully react to related arts and social issues is by having the courage to experiment, lending more layers and openness. Most importantly, the intrinsic value of theater can be reaffirmed as a social force, because art affects through experience.