National STEM Forum Germany
Working together toward a national STEM strategy in Germany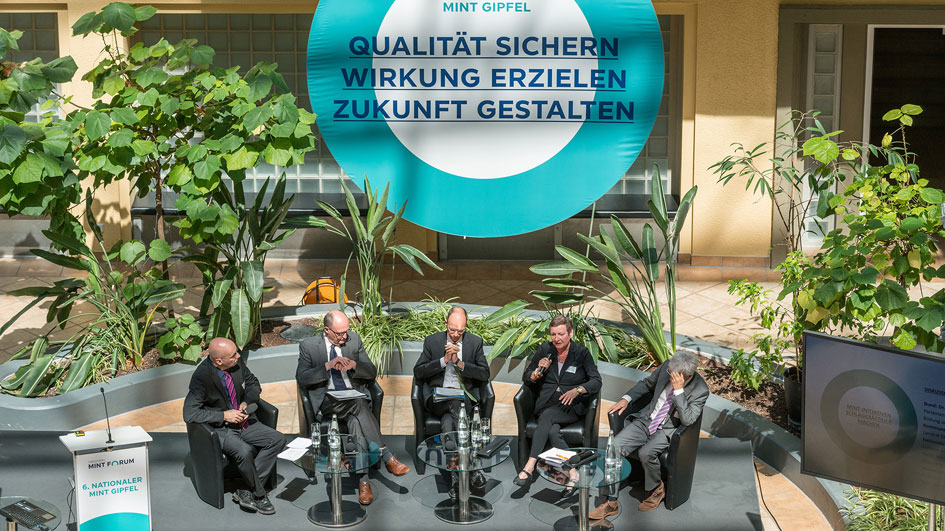 © Nationales MINT Forum, Photographer: Andreas Süß
Germany is home to an impressive number of STEM initiatives in charge of a wide-range of related programs. National STEM Forum Germany (Nationales MINT Forum Deutschland) seeks to generate more public and political awareness for these initiatives and programs by developing recommendations and proposals for addressing specific challenges along the entire STEM education chain. The forum works toward uniting political and civil society stakeholders in a concerted effort for implementing these solutions.
The National STEM Forum Germany is comprised of over 30 large, nationally-active scientific institutions, foundations, and associations working collaboratively for improved education along the entire education chain in the fields of Science, Technology, Engineering and Mathematics (STEM, in German: MINT). This encompasses education at all levels: early childhood, scholastic, professional, academic, and continuing or life-long learning efforts. The primary goal of the National STEM Forum Germany is crafting joint positions and recommendations for education policy based on the perspectives, interests, and specific issues represented by its members. As the national voice of STEM stakeholders in Germany, the forum consolidates the experiences and expertise of STEM civil society into a common position. This collective voice gives the forum a platform for initiating public debate and for engaging in constructive dialog with other stakeholders, particularly those from the political realm. The National STEM Forum Germany was founded in 2012 by acatech – Deutsche Akademie der Technikwissenschaften (National Academy of Science and Engineering) and as part of an initiative from the Confederation of German Employers' Associations (BDA) and the Federation of German Industries (BDI) called MINT Zukunft schaffen (Creating a future for STEM). The forum encourages collaborative efforts in addition to the individual initiatives of each member. Working groups shape education policy recommendations, common standards of quality, or collaborative projects pertaining to STEM education.
National STEM Summit: Dialog in politics and civil society
The forum's activity takes center stage at the annual National STEM Summit, which focuses on a different aspect of STEM education each year based on the National STEM Forum Germany's core objectives. Members of the forum join top political and administrative representatives in discussing this issue and working out potential means for implementing new approaches.
We believe the only way for Germany to advance in the various aspects of STEM education is with comprehensive and long-lasting support and collaboration among the country's relevant STEM stakeholders. As such, we've been an active member of Nationales MINT Forum since its inception in 2012. Dr. Nathalie von Siemens, who served as Siemens Stiftung Managing Director from 2012-2020, was also co-spokesperson of the Nationales MINT Forum (National STEM Forum, Germany) from 2015-2020.
Engagement in working groups
We are also involved in two Nationales MINT Forum working groups: "STEM – staffing at schools" and "Quality and impact."
Dr. Barbara Filtzinger, head of Siemens Stiftung's Education working area, also runs the forum's working group on "Holistic concept of education." Policy papers with findings from these and other working groups are available on the Nationales MINT Forum website.
As part of Nationales MINT Forum, Siemens Stiftung is also participating in a STEM quality campaign that seeks to permanently improve the quality development of extracurricular STEM initiatives in Germany.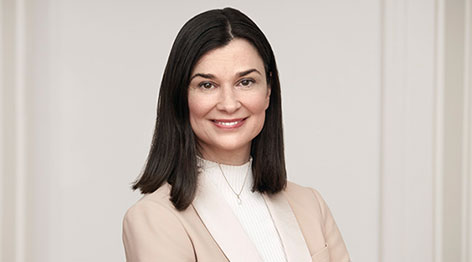 Dr. Nina Smidt, Managing Director Siemens Stiftung
4ING – Fakultätentage der Ingenieurwissenschaften und der Informatik an Universitäten e. V., acatech – Deutsche Akademie der Technikwissenschaften e. V. , Berlin-Brandenburgische Akademie der Wissenschaften, Bundesagentur für Arbeit, Deutsche Telekom Stiftung, Deutscher Industrie- und Handelskammertag e. V., Fraunhofer-Gesellschaft, GESAMTMETALL · Gesamtverband der Arbeitgeberverbände der Metall- und Elektroindustrie e. V., Hans-Böckler-Stiftung, HAWtech – HochschulAllianz für Angewandte Wissenschaften, Heinz Nixdorf Stiftung, Helmholtz-Gemeinschaft Deutscher Forschungszentren e. V., HRK Hochschulrektorenkonferenz, Joachim Herz Stiftung, Körber-Stiftung, Kompetenzzentrum Technik-Diversity-Chancengleichheit e. V., Leibniz-Gemeinschaft, Max-Planck-Gesellschaft (Kurator), MINT Zukunft schaffen, MNU – Deutscher Verein zur Förderung des mathematischen und naturwissenschaftlichen Unterrichts e. V., Nationale Akademie der Wissenschaften Leopoldina, sdw – Stiftung der Deutschen Wirtschaft gGmbH, Siemens Stiftung, Stifterverband für die Deutsche Wissenschaft e. V., Stiftung Haus der kleinen Forscher, Stiftung Jugend forscht e. V., TU9 German Institutes of Technology e. V., Vector Stiftung, VDI – Verein Deutscher Ingenieure e. V., Wilhelm und Else Heraeus-Stiftung, Wissensfabrik – Unternehmen für Deutschland e. V.
Project manager Nationales MINT Forum
Spokesperson Nationales MINT Forum
You might also be interested in