Project closed | Project period: 2009–2013

KiTec – Children Discover Technology
Building sets for elementary school children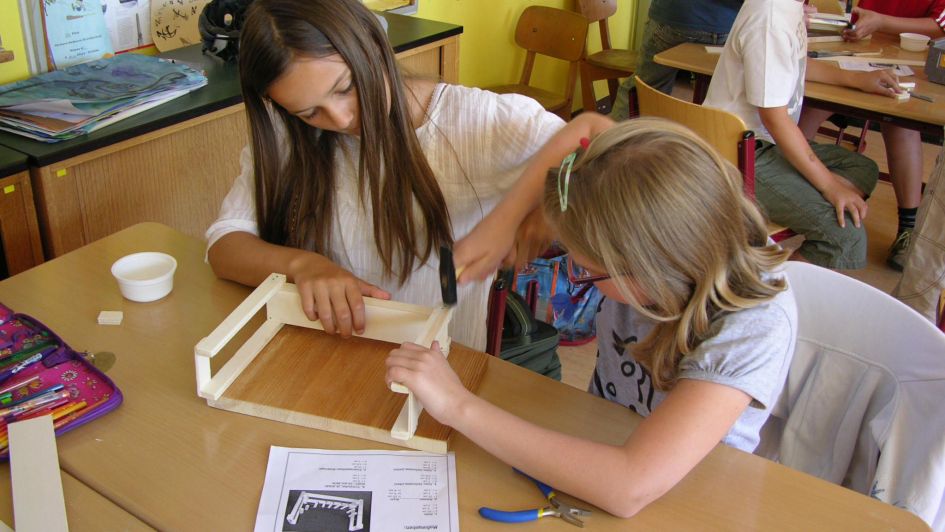 © Siemens Stiftung
Why doesn't the Eiffel Tower fall over in a storm? What makes a bridge strong enough so heavy trucks can drive over it? How does the steering work in a car? With KiTec – Children Discover Technology, a child's thirst for knowledge and scientific curiosity is supported. The KiTec sets for the classroom were developed by the TransferCenter for Neuroscience and Learning (ZNL) in Ulm together with an educational chair for technology and didactics. KiTec consisted of three sets of varying tools and materials.
The goal of KiTec was to impart technical skills on elementary school children through building and handiwork, with an emphasis on the independent use of the sets' contents. The concept foresaw that elementary school teachers would take part in an initial training session on how to work with the building sets, which were then provided free of charge to the schools. The key component was of course the implementation of the tasks during lessons. A cooperative agreement spanning one year between the school and Siemens Stiftung showed a desire for sustainability and increased the verifiability of learning success.
Interested elementary school teachers took part in training seminars and learned how to work with the sets, which they then passed on to their pupils. After completing their "Tool Certification", elementary school children could work in teams at various workstations in the fields of civil, automotive, and electrical engineering. The course and sets that were later made available to the schools were free.
Wissensfabrik – Unternehmen für Deutschland e.V. is an open platform for companies, educational institutions, and initiatives that want to support and share knowledge to foster economic development. Over 70 companies and foundations in the network advocate for more education and entrepreneurship in Germany. As part of over 2,000 educational partnerships, Wissensfabrik is dedicated to the intermediation of science, technology, and the economy. One particular area of emphasis is early childhood education, which involves working with kindergartens and elementary schools. In addition, Wissensfabrik supports young entrepreneurs during their first steps toward autonomy through a mentoring program. Since 2007, the Wissensfabrik has worked with Handelsblatt to put on the WECONOMY start-up competition