Project closed | Project period: 2012–2018
Community Economic Elevator Program
Opportunities through micro-entrepreneurship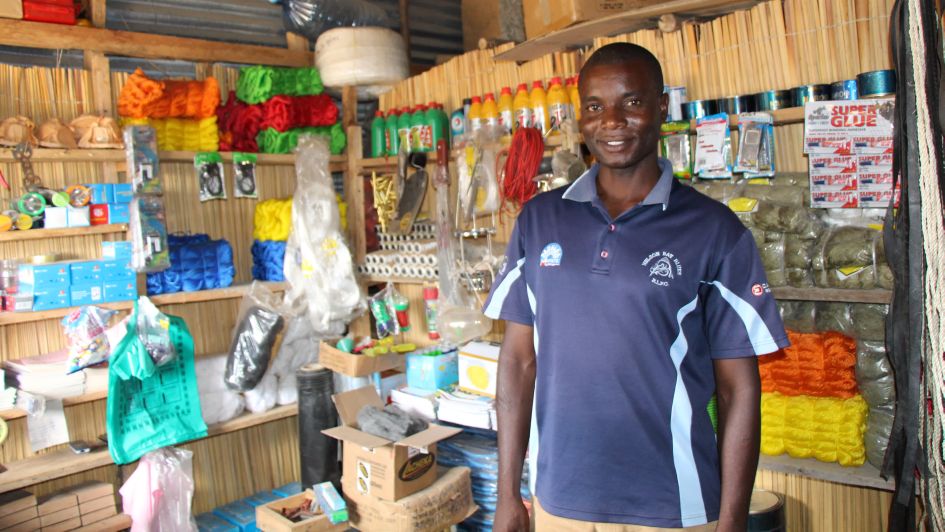 © Siemens Stiftung
Running a small successful business of their own is something many people would like to do. For people living in slum districts or remote rural areas of Kenya, however, it is often the only opportunity they have to generate their own income. There are few employers and many people live from hand to mouth, taking any occasional job that presents itself. But these people often have promising ideas that could be implemented successfully, provided they receive systematic backing and the right tools for the trade.
Promoting personal initiative and an entrepreneurial mindset, Siemens Stiftung provided practical training courses and regular mentoring for micro-entrepreneurs and ambitious young people. For this purpose, a mini-study program for budding social entrepreneurs has been developed in collaboration with the Kenyatta University. In addition to instilling basic business know-how and elementary technical proficiency, this program focused on the development of personal skills and competencies. The goal was to open up economic, entrepreneurial and social perspectives for young Kenyans who are perhaps already self-employed or wish to start their own small businesses. The program was carried out at locations that other Siemens Stiftung projects have helped to establish, such as the Safe Water Enterprises or the Water-Energy Hubs (WE!Hubs). In addition to the local entrepreneurs, the social entrepreneurship training also benefited the people working in these existing programs.
2012 – 2017 Youth Banner held entrepreneurship trainings at 15 locations in Kenya in behalf of Siemens Stiftung. This cooperation ended at the end of 2017 and the project was completed in 2018. Siemens Stiftung continues to support personal initiatives as well as entrepreneurship and offer practice-orientated trainings. A new project approach has been established since 2018. This focuses on the one hand on the "Incubation Program" project, which offers training and mentoring together with the Lake Hub Kisumu, and on the other hand on co-creation workshops with local partner communities in Sub-Saharan Africa, in which business models related to water are developed and tested.
The goal of our Entrepreneurship Training program was to promote personal initiative and an entrepreneurial mindset. Although crucially important for the success of one's own business, these skills are not sufficiently promoted during the classical formal education acquired in Kenyan schools. It was at this point, where our training and mentoring programs started. We instilled the required know-how in our course participants and support them on the road to self-employment.
Using our local Safe Water Enterprises and WE!Hubs kiosk systems as a starting point, we provided training for the kiosk employees. Being set up as social enterprises, the kiosks are to secure long-term financial independence and a regular income for their operators. In addition to the kiosk managers, however, we also trained local micro-entrepreneurs and ambitious young people from the neighborhood. This strengthened the social impact of the training program and integrated the project initiatives more firmly in the village community.
Practice-oriented trainings leading to a university certificate During four- to six-week training courses, participants received basic instruction in business management, customer service, accounting, and financial management. Kiosk operators also received technical training. The development of personal competencies such as communication skills or conflict resolution formed an equally important part of the program.
Mentoring and coaching program A subsequent six-month mentoring and coaching program supported participants on the road to becoming successful micro-entrepreneurs. The young entrepreneurs met up regularly in small groups to exchange experiences and received advice on creating their business plans. In some cases, help was provided in arranging micro-credits. Experienced local business people were also on hand to pass on their know-how to their mentees, helping them to establish crucial contacts.
After successfully completing the whole program, the participants received a certificate which was signed by Kenyatta University's School of Business.
In order to promote micro-entrepreneurship in rural and peri-urban areas of Kenya, Siemens Stiftung collaborated with the School of Business, Kenyatta University, to develop a practice-oriented training program and to teach certified trainers, who educate the micro-entrepreneurs in the local communities.
With The Youth Banner, a local youth welfare organization, we cooperated to integrate the trainees in a long-term coaching and mentoring program that supported them on their journey towards becoming micro-entrepreneurs.
What has been achieved since the start of the program?
Along with the transfer of basic business know-how, the development of personal skills was crucial to the success of the training program. The combination of trainings, long-term coaching and mentoring, plus access to start-up capital, has proven to be a successful one. Already in the pilot phase, based around the Water-Energy Hubs on Lake Victoria, the program met a great deal of interest among the local community. In January 2013, when the necessary human resources and organizational infrastructure had been set up, the program kicked off with around 30 participants. Shortly afterwards, another 130 trainees joined them. In the meantime, coaching and mentoring groups sorted by sectors were established as well as specialized groups for graduates of the local Polytechnic Academies, focusing on specific industries such as transport or fishing, or groups exclusively for women
2700 graduates successfully completed their training and mentoring program and were honored at a ceremony. Aged between 18 and 35, the graduates had undergone around four weeks of training in entrepreneurship and social skills, followed by approximately six months of personal coaching and mentoring in small groups.  
Following the successful pilot phase, the program content has been further refined in collaboration with the Center of Entrepreneurship and Enterprise Development at Kenyatta University's School of Business. The program was also extended to other Kenyan locations with Water-Energy Hubs (WE!Hubs) and Safe Water Enterprises (SWEs). 
Comments of participants:
Philister Okeyo, owner of a shop selling school books and household goods
"The business know-how and skills I was able to acquire during the six-month program are priceless. Not only have I learned a lot about accounting and finance, I am now able to write a business plan. But the most important thing of all is: I now know how to run my business intelligently. I have learned how to assess my customers correctly, and have a good idea of what they need and will probably buy in the future. This enables me to perfectly align my range of goods with the requirements of my customers."
Jeremiah Otieno, fish offal dealer
"This training program has changed my life. I used to earn around 25 euros a month on average. I now have a monthly income of about 250 euros, and can even afford a motorcycle. I'm really proud of what I've achieved!"
Michael Otieno Oguto, soap manufacturer
"What I've learned about accounting helps me to keep a constant check on my finances and enables me to save money at the same time. I'm delighted that my business now enables me to support my family and pay my children's school fees."
Charles Amwayi, supplier of fishing equipment
"Having a sensible business plan is the most important thing of all. Accounting is crucial to a successful business. After all, you need to know how much you can spend on your purchases. With my range of goods I am able to support the fishermen in their work. I am happy that I can do my part for the people in my community. I also want to pass my knowledge on to other people so that they can benefit from it as well."