Driving development with e-mobility
A Siemens Stiftung social enterprise, WeTu, is using its WeMobility division to introduce innovative mobility solutions in Kenya to demonstrate that e-mobility is a great development opportunity in rural regions of Africa. This requires tailor-made technical solutions, economically-sustainable business models, and solid local infrastructure.
E-mobility solutions were generally developed for use in urban areas. Why do you see potential in rural parts of Kenya?
Average distances of less than 100 kilometers, speeds of no more than 60 km/h, year-round temperatures above 0 °C and endless sunshine: The conditions in rural Africa are perfect for e-mobility. We hear arguments to the contrary all the time, but they are simply not an issue there. This makes the advantages stand out even more.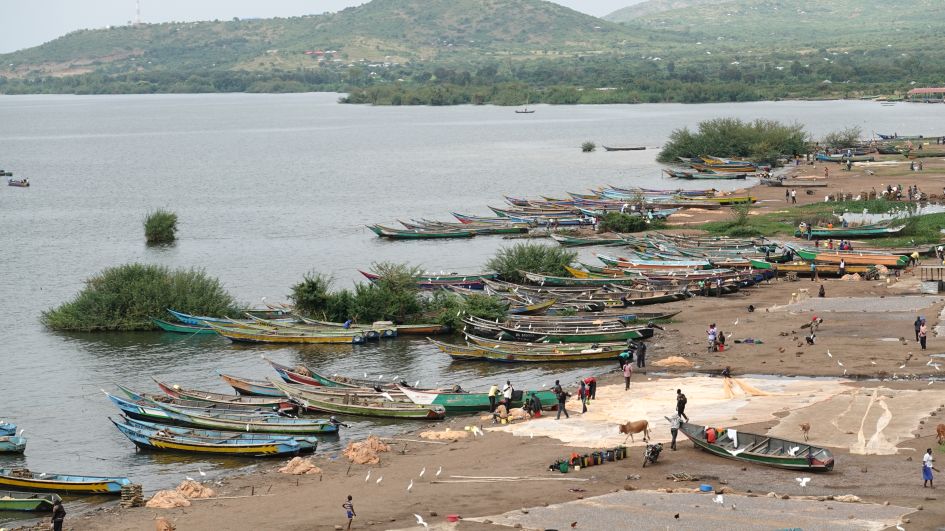 © Siemens Stiftung, Photographer: Rolf Huber
But there are some serious problems in e-mobility: a lack of charging infrastructure, a poor ecological balance because of polluting energy sources, and a lack of specialized workers. How is WeTu addressing these challenges?
We're implementing WeMobility solutions directly in our WeTu hubs along Lake Victoria. All six hubs utilize a decentralized charging infrastructure that operates independently of the local power grid. The solar power that is produced supplies the WeWater water filters with clean energy and charges our WePower and WeMobility products in an environmentally-friendly way. When a product reaches the end of its life cycle, we make sure the batteries remain in the circular economy so they can be sustainably reused as often as possible. We work with local partners and institutions in promoting new technical skills and abilities in e-mobility so assembly and repair can be done locally, securing the necessary specialized knowledge while creating new jobs.
How does WeTu decide what products are best suited for WeMobility?
We've collaborated with the partners in our empowering people.Network for years, giving us extensive working experience with global social enterprises and startups and in evaluating technical solutions and custom business models. In Western Kenya, we've been involved in some projects for more than 10 years. As a social enterprise, WeTu already employs 15 people from the area at the its hubs – another way we're connected to local communities. Just like the WeWater and WePower divisions, we are looking for WeMobility solutions that match existing needs for people living there. The cooperation between startups and established organizations keeps us agile so we can adapt the products for local requirements without a lot of complications.
What solutions are being implemented and how are they tested?
All of the products we select go through a proof-of-concept phase to test their suitability as a solution. This gives us valuable information about the products and how they are used, which informs our work at WeMobility. We started by testing electric cargo bikes from a company called Anywhere.berlin. Then we had e-transport vehicles from a Munich startup called EVUM Motors, and e-boda bodas from the Opibus company. They have also developed an electric model of popular mopeds that are really a hit in Kenya. In the fishing industry, we've been testing electric outboard motors from Torqeedo in an effort to introduce an environmentally-friendly alternative to gasoline motors on Lake Victoria. During the proof-of-concept phase, a group of universities is collecting data that could help us form the foundation to grow the project on a larger scale.
What is next for WeMobility, and how are these solutions contributing to development in the region?
The automobile market in Africa consists mainly of used cars, which are imported by the million from abroad. In an effort to limit pollution from older cars, Kenya's government has passed a law that restricts car imports to vehicles no older than eight years. Nevertheless, there is no local value creation in the automobile sector. We are working with universities and education institutions to build up the necessary skills so a large part of the value creation can gradually shift to Kenya. Not only is that a starting point for further educational opportunities, but it will also create jobs. In designing appropriate business models, such as the sharing economy concepts, we're including digital solutions from the very beginning. The mobile payment systems in Africa have proven that "leapfrogging" with modern technology can work quite well. I think e-mobility could be Africa's next big step in terms of social and economic development, and it is climate and environmentally friendly, too.
You might also be interested in
Sustainable mobility solutions in Sub-Saharan Africa