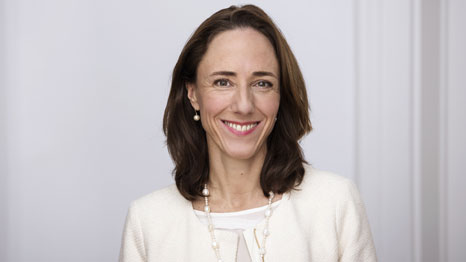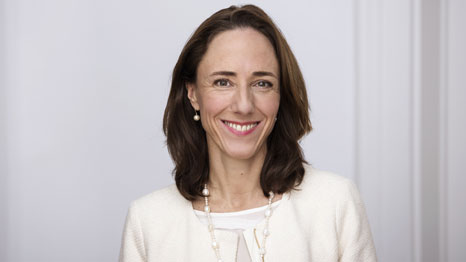 Christine Niewöhner, Project manager Design Thinking
Do Design Thinking and STEM go together?
Design Thinking methods are being systematically linked with STEM subjects for the first time; a system for fostering creativity meets science and technology subjects. Will it work? Cultural economist Christine Niewöhner is in charge of the "Design Thinking in STEM" pilot project within the Education Working Area at Siemens Stiftung. She recently returned from a kick-off workshop for educators in South Africa and believes, yes, it will work just fine. In the following interview, Niewöhner shares some insights into the project.
Ms. Niewöhner, what exactly is Design Thinking?
It's a structured and creative method for solving complex problems, but it's also a mentality. The concept originated with designers – in their world, emphasis is always on the user. A design agency called IDEO developed Design Thinking in the 1990s. It's based on three things: multidisciplinary teams, flexible physical space, and the Design Thinking process itself. The process teaches students to approach problem solving by developing a sense of empathy, putting themselves in the shoes of someone who is actually confronted with the problem. The solutions they come up with are turned into physical prototypes to be tested and evaluated. They work in teams and blur the lines between traditional classroom subjects.
Why are these three principles of Design Thinking important?
In a multidisciplinary team, a person's own thoughts are expanded. Each person taking part begins to leave their comfort zone and starts to consider views and knowledge held by others. This is reinforced by variable physical spaces: flexible furnishings encourage movement, activity, and the free formation of ideas. For the prototyping phase, the rooms contain a variety of materials such as paper, Lego, fabrics, adhesives, clay, toys, newspapers…
Can you give an example that explains Design Thinking in STEM?
We conducted our first pilot workshop at the end of February 2019 in South Africa. Thirty-two participants, including teachers and education experts from South Africa, Kenya, Germany, and Latin America went through the entire process. I was also one of the participants, and I'd be happy to share what I experienced in my team. It was a real eye-opener for me to confront challenges for which I had hardly any personal connection, and then to solve them step by step.
What was the problem you were meant to solve?
The group decided to look at the second UN Sustainable Development Goal – "Zero Hunger." The task was to come up with solutions for a South African farmer who has no steady income or means of feeding his family due to a persistent drought. The first step is understanding the fundamental problem, really making it concrete and well-defined. Then each person in the group put themselves in the farmer's shoes. Special techniques helped us to empathetically feel how the man would live, what he thinks, and what he worries about. What are his personal resources? That was the hardest part for me because I don't know any farmers in South Africa. But two members of my team were friends with farmers, and from there we were able to come up with the fictitious character "John." In the end, I was really able to identify with John.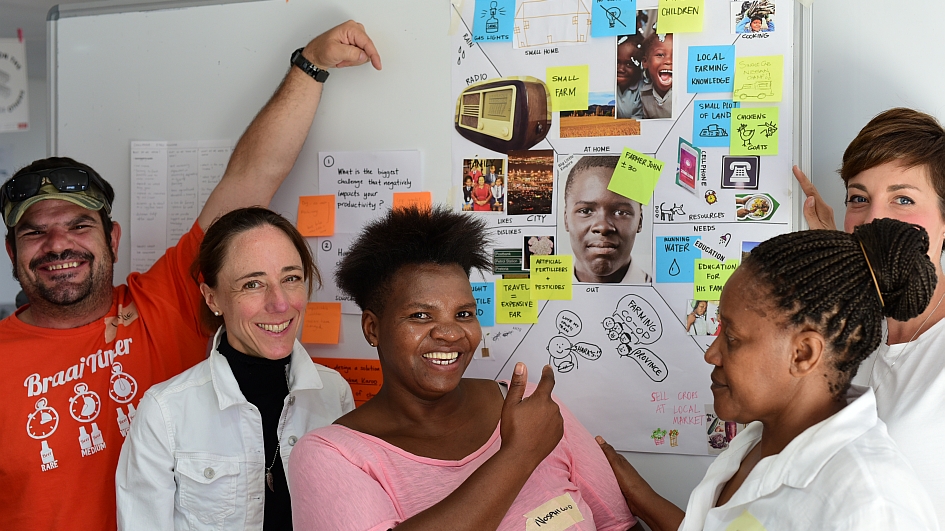 © Siemens Stiftung, Photographer: Jonathon Rees/Proof Africa
After that we had the prototyping phase. Everyone grabbed different materials and let their hands take over, intuitively creating new ideas. One woman used paper to construct a composter, which would use worms to create natural fertilizer. I used cardboard to create a planting system of plant varieties with low water consumption. Another person used Lego to create a shipping container that was used as a chicken coop with a solar cell and a hydroponic system on the roof. In the final phase, everyone presented their ideas and we linked them together with wool thread. Suddenly, we realized that a cooperative in which farmers worked together and shared costs and materials could be a solution to the problem.
How did the participants react?
Over the years, my colleague Rebecca Ottmann has built up an outstanding network for us in South Africa – we've been running our STEM project Experimento there since 2010 and have already reached 900 teachers – so everyone at the workshop already knew and trusted us. They were surprised at how enjoyable the process was, and we got really positive feedback. They all immediately saw ways that Design Thinking could be implemented in the classroom, and some have already started using it.
So, you think a process built for designers is applicable to education?
Education has an important role to play in preparing for the challenges of our future, such as climate change, globalization, and digitalization. But a pure transfer of knowledge is no longer enough. Siemens Stiftung focuses on high-quality science education, but Dr. Barbara Filtzinger, head of our Education Working Area, has always advocated a holistic approach to educating young people. Creative processes need to be integrated in every step, including the STEM subjects. That led us to look for an approach that allowed and encouraged innovative thinking in the classroom.
Design Thinking is a bit of a trend at the moment.
Yes, Design Thinking is quite popular. Many companies are using it to come up with new innovations. I approached the method with skepticism, but it really encourages "21st century skills" like communication, problem solving, and the capacity for teamwork. Design Thinking is also a good fit for our working methods. Our network reaches nearly a million students on different continents. With Design Thinking, we can structurally encourage creativity in each and every one of those students. Design thinking is not a cure-all, but it's a good supportive method.
Which subjects lend themselves to Design Thinking in the classroom?
Basically, the method works for a wide range of problems, especially interdisciplinary subjects that are addressed in project-based lessons. In terms of a thematic framework, we recommend the UN Sustainable Development Goals, which focus on economic, social, and environmental challenges. Teachers can either use the entire process of Design Thinking to teach these interdisciplinary subjects or can pick and choose techniques, such as ones that would apply to research tasks or project planning. They don't always have to use the entire process.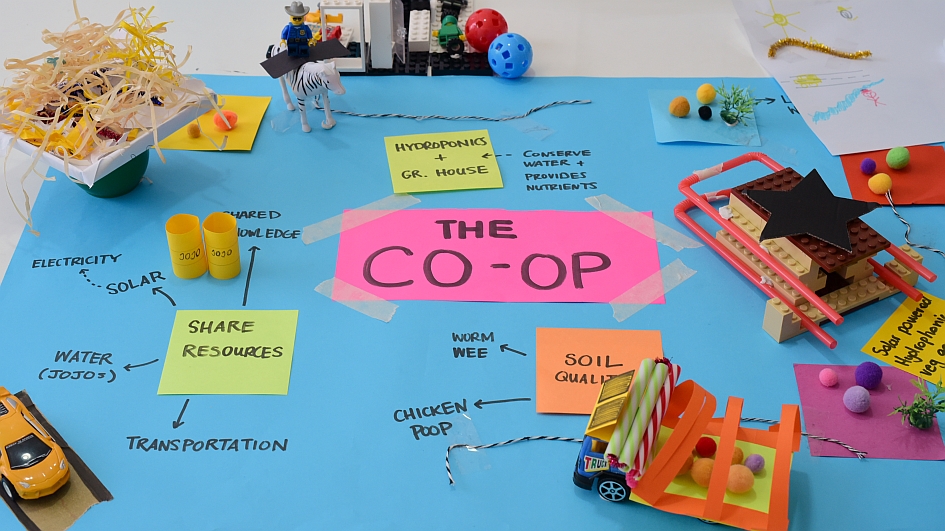 © Siemens Stiftung, Photographer: Jonathon Rees/Proof Africa
The process can be adjusted for schools and curricula?
Design Thinking focuses on the person, and that person's hopes and needs. The method is meant to draw out the potential creativity in each person, in addition to encouraging teamwork and productivity. This makes it particularly suited to the STEM subjects, which use interdisciplinary and hands-on methods to educate. But Design Thinking can also develop skills relating to STEM such as critical thinking, the ability to solve problems, and the capacity for teamwork. Dealing with real-life issues is an additional hallmark of science and technology subjects, and it is also an important aspect of Design Thinking.
What role do teachers have to play in Design Thinking?
Teachers are moderators and learning guides in Design Thinking. They lead children through the process so they can let their own ideas run wild. It's a challenge for teachers to let go of an authoritative teaching style and to submit to this alternative method, so they really play an important role in transforming the education system. Design Thinking does not work as a top-down approach.
What is Siemens Stiftung's role in the project?
First, we set the ball in motion on connecting STEM education with methods of creativity. That didn't exist. Now, we're going to introduce teachers to the Design Thinking method in workshops and turn them into multipliers so they can spread this knowledge to their colleagues. Beyond training courses, our Media Portal provides teachers with a handbook of didactic and pedagogic tools for Design Thinking. That's a valuable means of support for teachers. We want the use of creative methods in the classroom to be a given.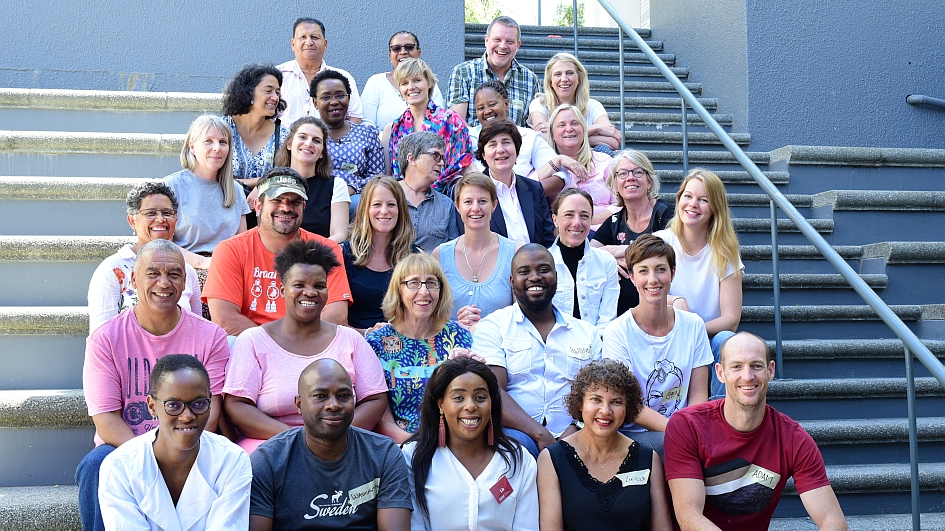 © Siemens Stiftung, Photographer: Jonathon Rees/Proof Africa
In which countries would you like to implement Design Thinking in STEM?
We're starting with the pilot project this year in South Africa. In the next two years, we want to introduce the project to our networks in Germany and Latin America. We're also happy for any interested individuals or organizations to get in touch with us directly.
You are working with "The Index Project" a Danish nonprofit. Why?
The Index Project has been working with this method in education since 2009. They started as part of a three-year, EU-supported project which also saw the creation of materials for teachers. Since then, The Index Project has reached 1,000 teachers and around 10,000 students in Denmark, the US, Chile, and Taiwan.
The Index Project is the expert for the methods, and Siemens Stiftung is the expert in STEM with a large network in the focus regions of Germany, South America, and Africa. We are a good fit: not only because we complement each other in terms of expertise, but also because we're pursuing solutions for sustainable social development.
Project manager Design Thinking and STEM