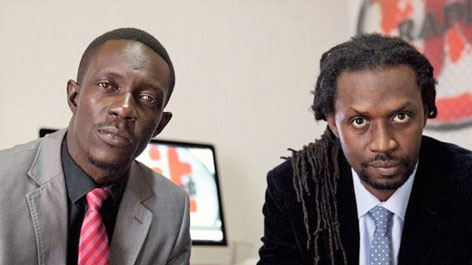 Keyti and Xuman, Senegalese Rappers
"Journal Rappé": News wrapped in Hip-Hop
Post-colonialism, environmental issues and development in Africa – these are the topics of the ten "Journal Rappé" episodes presented at this year's Munich Biennale. The Senegalese hip-hop stars Keyti and Xuman release daily video episodes from 15 to 24 May. The contribution of "Journal Rappé" at the festival for new music theatre is supported through a partnership between the Music In Africa Foundation, Siemens Stiftung and Goethe-Institut.

"What we want is to change Africa's narrative when it comes to how the rest of the world sees the continent," Keyti explains in an interview with our online platform Music In Africa. "We want to paint a picture of the Africa we know. We will not sugar-coat anything, it will be the reality we experience. Africa has its difficulties but Africa also has its promises of great things to come." In the Francophone West Africa, the hip-hop duo is already well known for their satirical news programme "Journal Rappé" which they launched 2013.
Episode 1: Once upon a time was the future
Episode 3: Home is where dignity is
Episode 5: Creativity First
Episode 7: Afro Immune System
Episode 8: Stereotypes and myths, not facts!
Episode 9: Ecoresponsibility
The aim of the project Music in Africa is to give artists the space and opportunity to reflect on social changes and to actively shape their own societies. Key aspects are international exchange, networking and capacity building.
Executive Director Music In Africa Foundation